Our Expert Gardeners
Jo Ann Dewar
Jo Ann was born and raised on a family farm in Chalybeate Springs, NC. Her love of plants was cultivated along with the crops in her early days. She was a bulldog of a point guard on her high school basketball team, often being listed in the local newspaper for her defensive skills. After school, she spent a short time with the FBI as a fingerprint specialist in Washington D.C. before returning to North Carolina and marrying her husband, Tom. After a few brief moves, Tom and Jo Ann settled on the 13 acres that now make up Fairview Garden Center. Jo Ann still works in the business on a daily basis, and is often the first to arrive and the last to leave. Jo Ann has four children, four grandchildren, and four great grandchildren. Along with plants, Jo Ann enjoys spending time with her family, the beach, fishing, and Wolfpack athletics.
Susan Rollins
Susan was raised on the property that the garden center now occupies, where they had a small farm and large garden. When she was a child, she thought she hated all the butter beans, corn, peas, and other plants they had to pick and shell. At some point Susan began to realize how fascinating they were. That is when her love of plants began. She started working in the business at its beginning during high school and later attended NCSU and received a degree in flower and nursery crop technology. She has two children and four beautiful grandchildren. She enjoys time with family and growing the veggie and herbs plants at the garden center.
Brad Rollins
Brad was born and raised adjacent to the garden center property, often spending time in a cardboard box as an infant on our propagation tables. He spent many days as a child running around the garden center irritating employees and customers while at the same time checking out all of the cool flowers, plants, lizards, frogs, and whatever else caught his attention. His love of plants lead him to a degree in Horticultural Science from NC State University. Outside of work, Brad enjoys time spent with his wife, Heather, and daughters, Aubrey and Carter Jo. When time permits, you can find him fishing, playing golf, or at Wolfpack football and basketball games. Go Pack!
Karlie Rollins Smith
I was raised in our family home on the Fairview property next to the greenhouse. Most days you could find me hanging out at the Garden Center, riding my bike through the nursery, and begging to run a cash register. I loved to watch "Anma" propagate plants and was fascinated at the process of how fast they grew and how beautiful they were. From time to time she would let me help her and my fascination "grew" and my love of plants took "root." After I graduated from high school I attended NC State University and received a degree in Ornamentals and Landscape Technologies. After graduating from NCSU I pursued another degree, this time in the medical field, which is another passion of mine. I then went on to work at Rex Hospital and now I work full-time for a OB/GYN. While the medical field is most rewarding, I still have a love of plant propagation and the beauty that plants add to our world, therefore during the busy season at Fairview you will find me working part-time.
In 2006 I married Michael Beasley whom I met in plant propagation while at NC State. We have a daughter Madalyn and a son Tade who are the light of our lives! Outside of work I enjoy spending time with my family, NC State basketball and football, going to the beach, decorating our home and working in our yard.
Heather Rollins
I was born and raised in Fuquay-Varina, NC and spent many Saturday mornings shopping with my mother at Fairview Garden Center. I met my husband, Brad Rollins, while in the Horticulture Club at North Carolina State University. That may sound like a nerdy love story, but hey, we're plant geeks. I received a BS in Horticultural Science from NCSU in 2005 and worked in the wholesale nursery trade at Smith's Nursery and Produce Farm for 6 years before joining the Fairview family business. I enjoy working on our website, storefront and promotions while still allowing time to help in the greenhouse and get my hands dirty. Outside of work I love spending time with my 2 daughters, Aubrey and Jo Jo, going to the beach and cheering for the Wolfpack!
Phyllis Rollins
Assistant General Manager, Personnel Manager
I began working at the age of 17 for a bank and continued to work for them for over 22 years. I held many positions in the bank. Those positions included teller, branch manager, putting together and holding employee motivational meetings, and I did lots of community service work. During this time I had 2 wonderful children and 2 beautiful grandchildren that I adore! Even though I loved the bank and my customers, I was ready for a change in career and while talking with my sister-in-law who is an owner at Fairview, I found out that she needed someone in Personnel and Marketing. She asked if I was interested and I said yes. That was over 27 years ago and I can say I have not regretted the change one day. I am now Assistant General Manager, Personnel Manager and Floral Designer. I feel so blessed to work with family, and for the opportunity to continue to serve and help others, be creative and to work in another field that I truly love.
Mary Ann Guido
Perennial Department Manager
I was born number two of seven children and raised in beautiful Hunterdon County, New Jersey. Shortly after graduating high school I was hired by AT&T Long Lines and remained there for seven years. By the time I left AT&T I had three beautiful children who wanted Mom to stay home, so I did and added one more to the group. The next move was to North Carolina where my family and I spent 20 years living in Chatham County. Throughout those years I worked various jobs, learning what I enjoyed and what I didn't enjoy. I worked with preschoolers in a childcare enrichment program, worked at a perennial nursery, held various clerical positions at Performance Bicycle and worked several years at Fearrington Village.
I finally figured out that what I enjoyed most was physical work, being outside, being with people, working with and gaining knowledge about perennials and gardening in general. Learning about the retail business, and having something different happening every day. That's what led me to my current job at Fairview Garden and Gift. I started as a part timer and have been working as manager and buyer in the perennial department for the past five or so years. I have learned much about gardening over the years and continue to enjoy learning about plants, retail and all there is to learn in the garden center business. In the meantime, I have gained one granddaughter, have bought a home of my own in Holly Springs and now enjoy gardening in my own back yard.
Cindy Green
Assistant Perennial Manager
As an employee of FGC for six years, I work in perennials and production. I have worked in business, retail, medical, dental and the airline industry. Gardening became an interest of mine when my husband's career had us moving a lot. Gardening and landscaping all our new homes began with my "plant and hope it lives" approach followed by research on "oh, that didn't work"! Working at Fairview has become a continuing education program for my knowledge and interest.
Delyn Metcalfe
Nursery Manager
Randy Smith & Jody Keye
Greenhouse Managers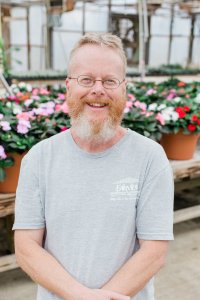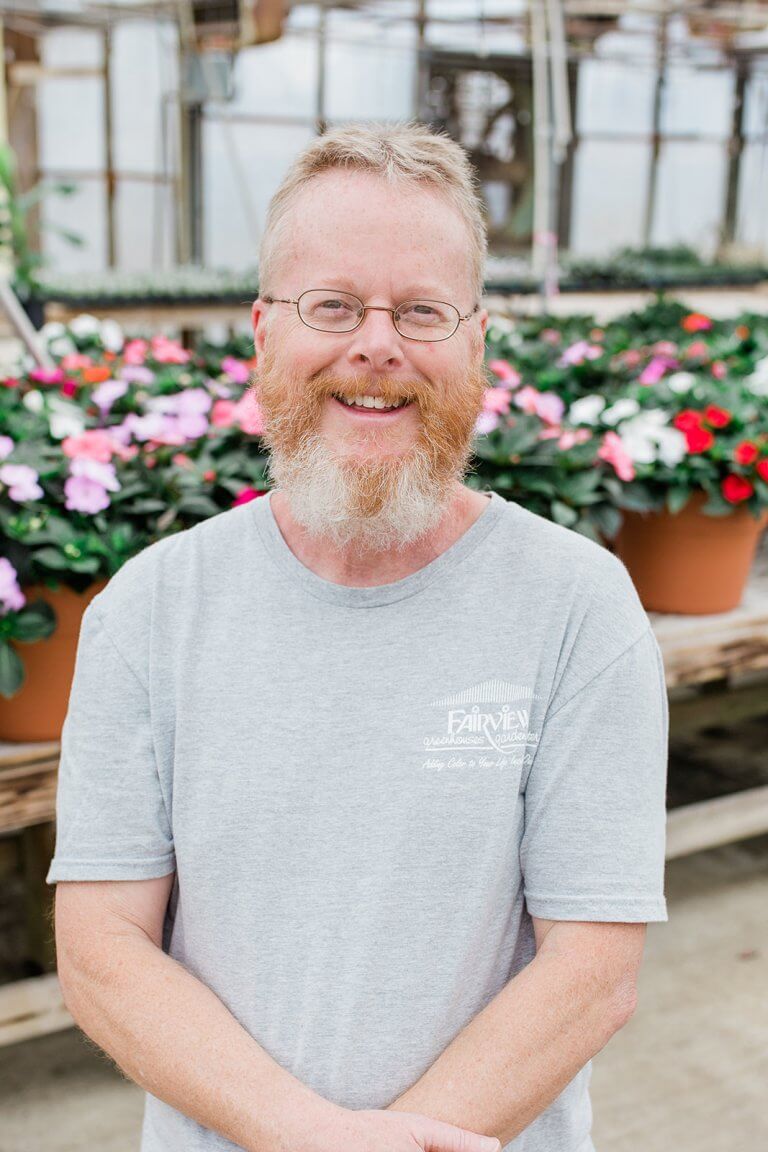 Cindy Keith
Cash Team Member and Hardgoods Buyer
My name is Cindy Keith. I joined Fairview's staff in 2007. I retired from the mortgage banking industry after 23 years. I have a daughter who is grown and married. Gardening has always been a passion and, until now, a hobby. Instead of spending 40 hours a week in a gray cubicle pushing paper, I am now spending 40 hours a week surrounded by flowers and trees and all the good stuff Mother Nature has to offer. Not to mention, a great group of people.
Carol Calloway
Growing Greenhouse Manager
Education:  BS Ornamental Horticulture NCSU
Carol has been a Fairview Employee since 1980 (she's older than our dirt!). She has worked in both the retail, wholesale and production departments. Carol is now the Grower.  She is responsible for growing our plants, ordering seed, cuttings, and plugs as well as chemicals, soil, and pots needed for growing. Our Wholesale orders are also her responsibility, mainly composed of Poinsettias, and Easter Lilies as well a small amount of contract growing.
Chance Smith
Growing Greenhouse Assistant Manager