Calling All Gardeners: Gardening Tools & Supplies in Raleigh, NC
Whether you're on the hunt for the most effective weed control or in desperate need of a new pair of gardening gloves, Fairview Garden Center has you covered. We provide an extensive collection of gardening tools and supplies in Raleigh, NC at our garden center. Our greenhouse, plant nursery and more provides you with all the annuals, perennials, houseplants, trees and shrubs you could ever need — many are locally grown!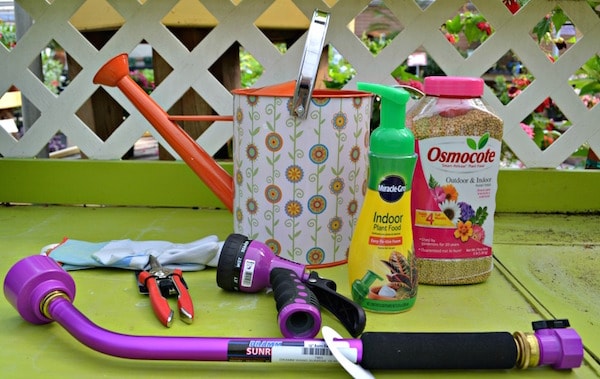 With brand names such as Corona®, Espoma®, Bonide® and Treegators®, our gardening tools and supplies in Raleigh are some of the most easy-to-use and effective products available. We also offer eco-friendly and certified organic gardening products, as well as insect repellent, soil and mulch made in North Carolina.
Not sure about what products are best for your yard? Ask Grandma Jo Ann or a member of her helpful staff. If you would like to inquire about a certain Raleigh gardening tool or product, feel free to contact Fairview Garden Center. We would be happy to answer your questions!
Gardening Tools
Corona® Hand Tools trowel
Weeder
Hoe/cultivator
Pruners
Leaf rakes
Digging fork
Digging spade
Bulb planters – long and short handles
Gardening Supplies
Treegators® – 15 and 20 gallon capacity
Tree staking kits
Bird netting
Asst. watering cans
Sprayers – 1 and 2 gallon pump sprayers
Hand sprayers
Soil test kits
Gloves
Rain gauges
Outdoor thermometers
Fertilizers
Espoma
Osmocote
Dynamite Organic
Miracle Gro
Fish Emulsion
Various granular lawn fertilizers
Ferti Lome®
Hi-Yield®
Jack's Bloom Booster
Repellents
I Must Garden (local company in Chapel Hill, NC)
Liquid Fence® – deer and rabbit
Dog and cat
Snake
Mole and vole
Deer
Rabbit
Squirrel
Mosquito and tick
Bonide® MoleMax
Insect, Disease & Mite Control
Bonide Control Products
Rose and flower disease controls
Azalea, Rhododendron and Camellia disease controls
Fire ant killer
Weed Control
Bonide® – Various liquid weed killers such as Bermuda Grass killer, Crabgrass killer, Moss Max, Clover and Chickweed killer, Broadleaf killer and more that control more than 200 weeds
Ferti Lome® and Hi Yield® – Various granular pre-emergent and post emergent
Soil & Mulches
Daddy Pete's – Family owned and operated since 1907 in Stony Point, NC
Pete's Planting Mix – Fairview's pick for soil conditioner. Blend of aged pine bark fines and composted cow manure
Daddy Pete's hardwood shredded mulch
Pine bark mulch
Pine mini nuggets
Fafard potting mixes – professional mix
Complete container mix
Specialty mixes for African Violets and Cactus
Succulents, Orchid Bark and Seed Starter mix
Mushroom compost
Cow manure
Fafard Organic Compost
Vermiculite
Peat moss
Eco-Friendly Products
Diatomaceous Earth insect killer
Beneficial Insects – Ladybugs and Praying Mantis eggs are available from mid-April through the end of May
Bonide® All Seasons Horticultural Oil
Bonide® Garden Natural Productions
Thuricide (BT)
Hot Pepper Wax
Bon-Neem Insecticidal Soap
Captain Jack's Deadbug Brew
Copper fungicide
Houseplant systemic
Fung-onil
Fairview Garden Center offers an extensive collection of garden tools and supplies in Raleigh, NC. We proudly serve Raleigh, Cary and the surrounding Triangle area.