6 Tremendous Tropical Plants
Tropical Vegetation
"Tropical vegetation is any vegetation in tropical latitudes. Plant life that occurs in climates that are warm year-round is, in general, more biologically diverse that in other latitudes. Some tropical areas may receive abundant rain the whole year round, but others have long dry seasons which last several months and may vary with geographic location. The term 'Tropical vegetation' often is used in the sense of lush and luxuriant, but not all the vegetation of the tropics could be adequately defined as such. Plant species native to the tropics found in tropical ecosystems are known as tropical plants." Tropical plants are often grown as houseplants in colder climates. (via)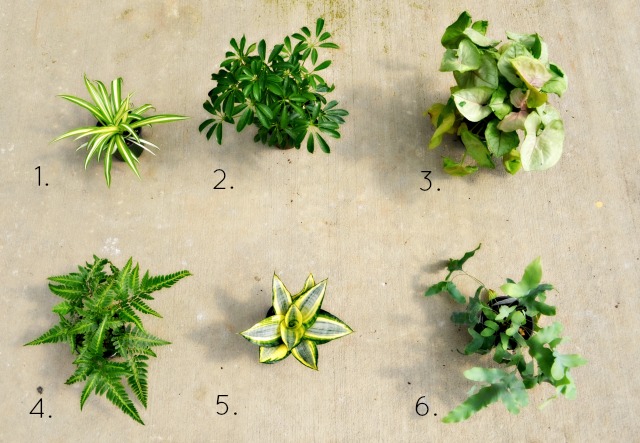 1. Spider Plant (Chlorophytum) – Extremely easy care houseplant that is sure to brighten up any spot in the home or office.
Great in hanging baskets
Well lit spot – no direct sun
Fast grower
Great learning plant for kids because of the 'baby plants'
2.  Umbrella Plant (Schefflera arboricola) – This tropical prefers to be near a window and will need to be turned on a regular basis to keep it upright.
6 Ft x 5 Ft
Medium Light
Fast Grower
Keep Soil Moist
3.  Arrowhead (Syngonium) – Easy to grow houseplant with attractive arrow-shaped foliage makes a great addition where greenery is needed.
Low light – no direct sun
Keep moist, reduce moisture in winter
4.  East Indian Holly Fern (Arachniodes simplicior) – This beautiful fern features shiny dark green fronds with a yellow stripe down the center of each segment.
10 – 18" H & twice as wide
Part shade – full shade
EVERGREEN in lower coastal south
Deer resistant
5.  Dwarf Snake Plant (Sansevieria 'Dwarf Laurentii') -One of the easiest houseplants available to produce great color & texture to the home or office space.
Low – bright light
Water moderately from spring to autumn, let dry out between waterings
Dwarf varieties – 4-24″
6.  Blue Hare Fern (Polypodium aureum) -A fast growing showy fern that prefers moderate light and ample humidity.  Adequate light provides a more pronounced blue hue.
36-48″ ht.
Moderate-low light
Keep soil moist and mist foliage occasionally