Coffee Can Bird Feeder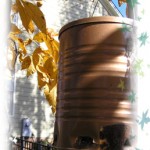 The cooler temps of fall are upon us and many of our summer flowers and gardens are slowing down a bit (or are already gone!). We all know it is a great time to plant trees and shrubs, but that is a little too large scale for the little ones. Then it occurred to me, why not introduce (perhaps you already have) children to wildlife, right in your own backyard?  If you enjoy feeding and watching the birds, why not share that joy with your children? Encourage them to get involved by making their own bird feeder.
Children will enjoy making and decorating their bird feeder, but actually seeing the birds flock to something they made with their own hands is sure to be a treat. Plus, they will probably learn a thing or two about birds along the way. There are many ways to make bird feeders, but in this article we focus on a simple bird feeder made out of a metal coffee can. It is really simple (and inexpensive) to make. So let's get started!
All you need:
1 Metal Coffee Can with Lid
Metal Wire: Either a coat hanger or crafting wire… adults, you will need to bend this for them!
Paints, Brushes, Stencils, etc. for decorating
Sealant
Duct Tape
A Bottle Opener
First, thoroughly wash and dry the coffee can and lid.
Next, (an adult will need to do this) spray the entire can and lid with a nice background color, something that will make your paints "pop." White or black are usually safe choices. The coffee can in this picture was simply sprayed with a copper colored paint and not decorated.
After the paint dries, take the bottle opener and create holes all around the base of the feeder, approx. 2 inches apart (adults may want to do this too!). Also, make two holes at the top of the can, one on each side. The holes at the bottom will serve as the feeding areas and the holes at the top will be used to loop the metal wire through for hanging.
Make sure to place the lid on the can before your child begins to decorate; the metal pieces where you made openings (inside the can) are sharp.
After your child has decorated his/her bird feeder and everything has dried, seal the can with Krylon or something similar (again, adults will need to do this) and allow to dry completely.
Fill the feeder with black oil sunflower seeds.
Loop metal wire through top two holes, making sure the ends meet on the inside of the feeder (make the wire long enough so the two "ends" can be twisted together inside the feeder). This way no one gets injured while filling the feeder, nor the birds while visiting.
For extra measure, it is a good idea to place a small patch of duct tape over the top two holes, once the wire is through. This added layer of protection will help to keep moisture out of the feeder.
Hang the feeder!
Have Fun!
Heather Waroblak
Fairview Greenhouses & Garden Center