Custom Christmas Before and After
A Custom Experience at Fairview
The phone rang  at 4:58 pm.  A customers said she had been to Fairview Garden Center on Saturday and saw a tree she liked. She and her husband were having their first family Christmas party (with 50 people!) and she wanted some help giving her home a joyful Holiday feel.  Could we help?  Of course!  I got her address and was on my way by 5:30 pm…same day!
As I walked up to her home I saw beautiful double wooden doors with tall glass windows.  Upon entering my eyes went straight to tall glass windows that covered the entire back of her sunken living room that was included in an open concept floor plan.  On one side of the sunken living room was the kitchen with a large middle island and on the opposite side a TV area with fireplace with marble hearth.
Seeing such a beautiful space got my decorating wheels turning and I could visualize a large tree here and matching pieces there. Using her vision of gold and silver I shared my ideas with her of a theme called "All Things Bright" with a special emphasis on JOY.  We talked space, color and budget.  We agreed on a plan and I went to the drawing board, literally, sketching out the different areas and my decorating ideas.   Once the plan was in place and the materials gathered, I returned to the customer's home to let the decorating begin.
Before & After
Entry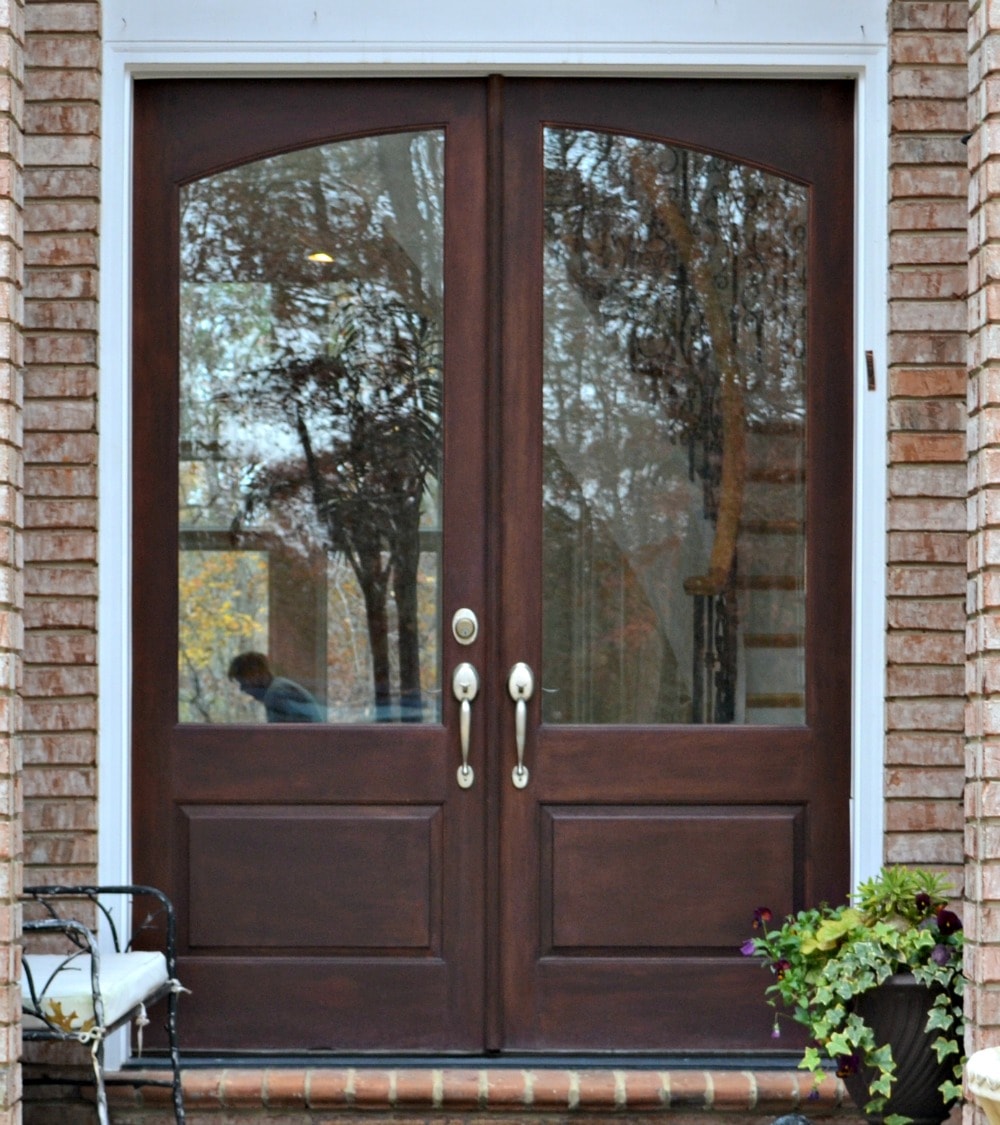 Double Wooden Front Entry Doors with large glass windows.  Custom made 30″ wreaths were hung on each door.  A cream and gold bow, large present with the word JOY, cream and gold smaller presents, gold trees, and sprigs of gold twig stems (to give the wreath a 3-D effect) were added to each  wreath.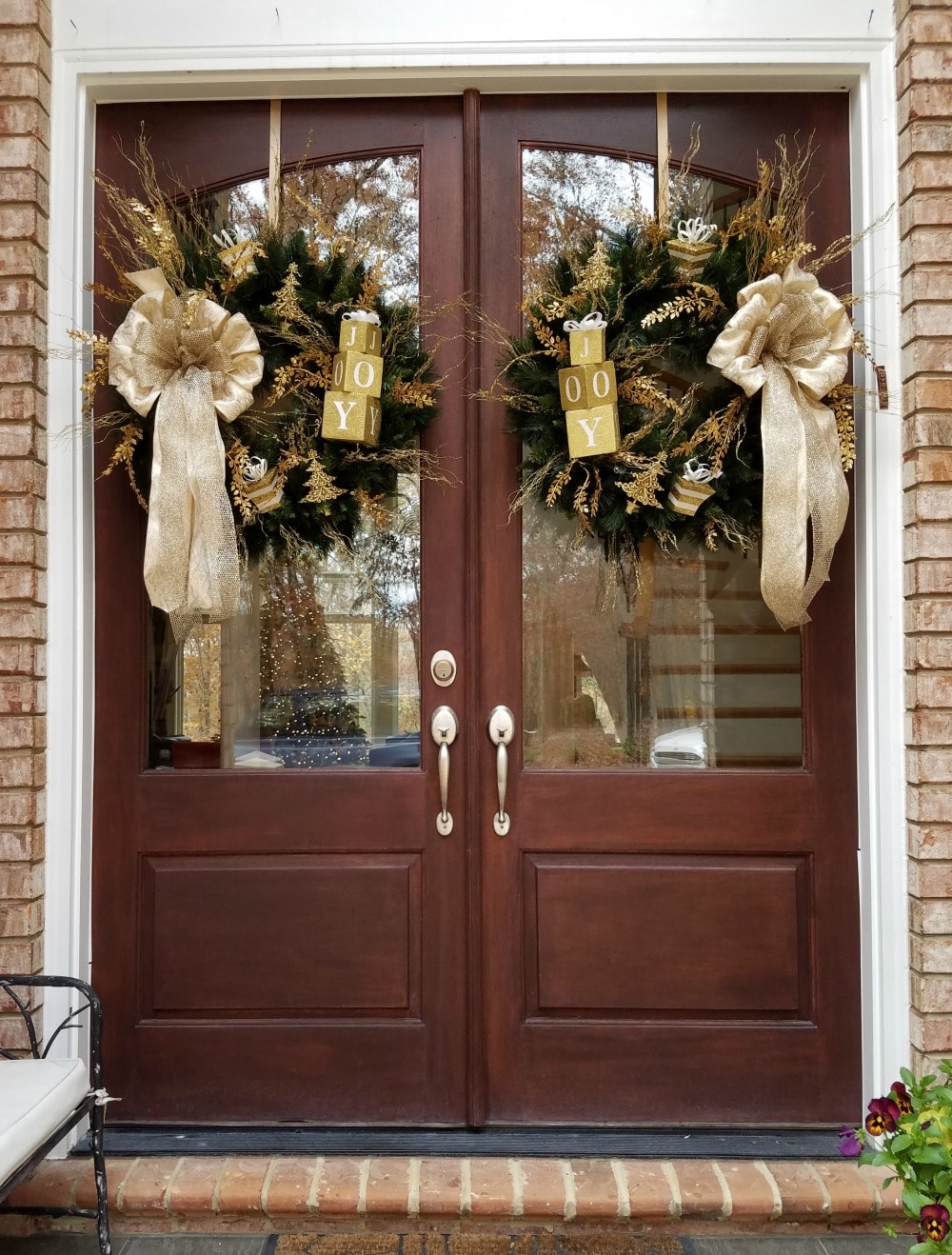 Sunken Living Room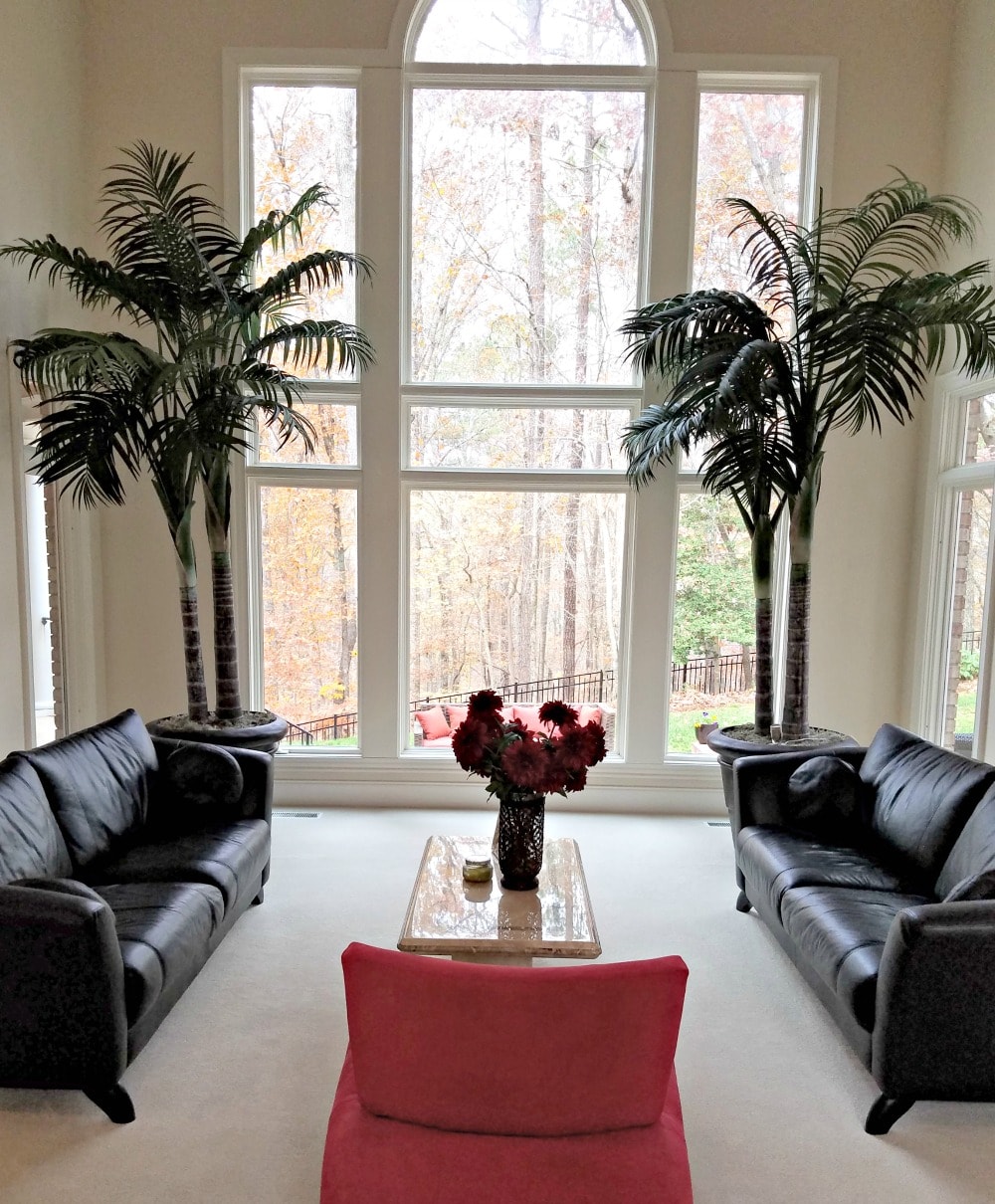 An artificial Frazier Fir Christmas tree (9′ x 77″) was set up in the middle of the large glass windows facing the entrance of the home.  Cream and Gold ribbon that matched the ribbon on the front door wreaths was added throughout the entire tree.  Next, the tree topper was added. I used stems of wispy light gold, bolder gold leaf stems, and medium colored gold open-weave leaves.  Large Joy ornaments were placed in the tree that matched the ones used in the front door custom wreaths.  An assortment of gold and silver ornaments were hung on the tree boughs and then large gold and silver poinsettias. Smaller velvet cream and gold poinsettias were added last along with wispy gold stems that I used in the tree top.  To finish the look a large piece of gold shimmering fabric was draped at the bottom of the tree as tree skirt.
In the center of the marble coffee table in front of the tree I used a tall mercury glass vase with wispy gold stems.  On each side of the vase I placed tall gold angels.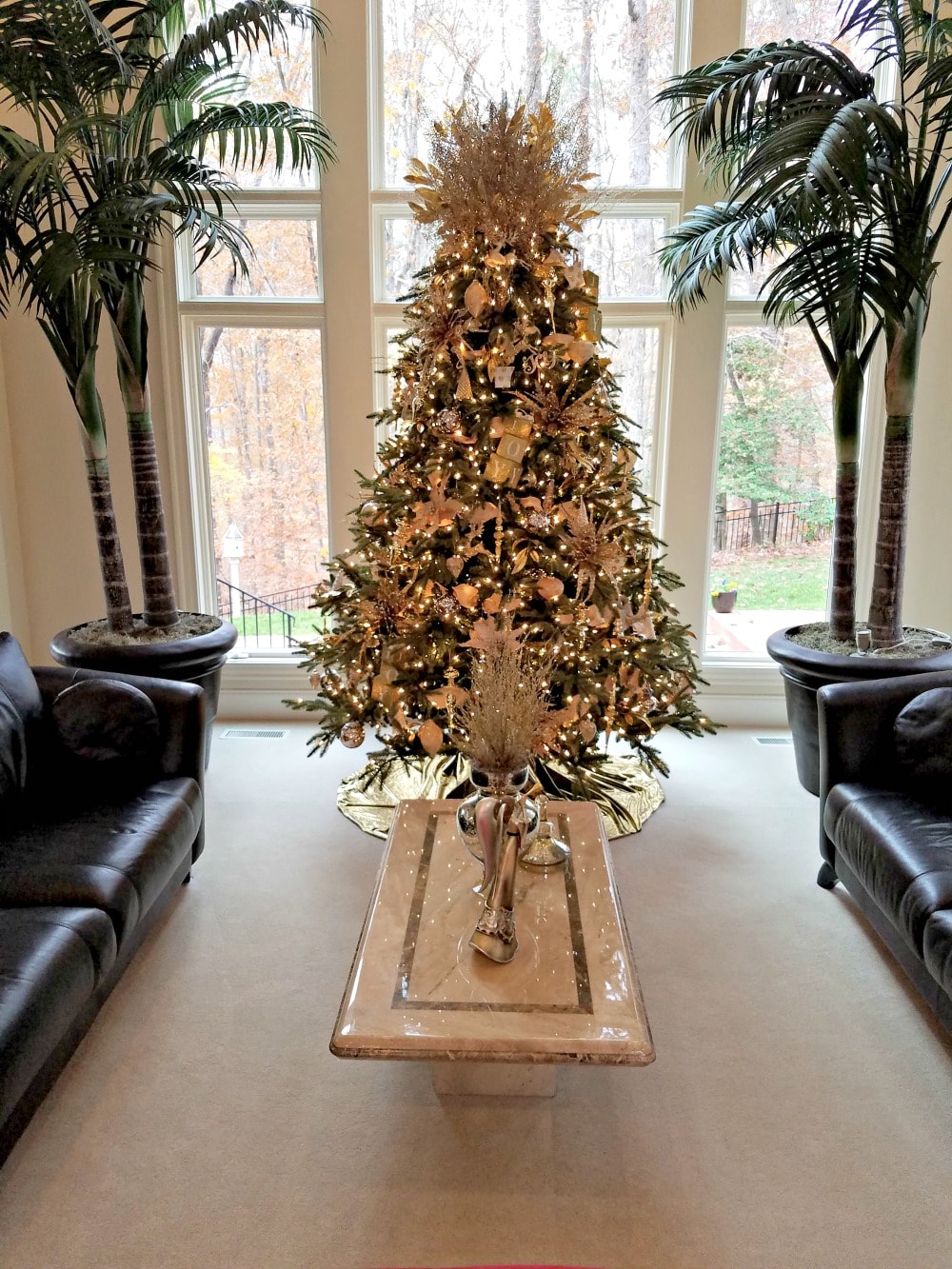 Kitchen
On the large island I placed a live arrangement with a gold ball pick and tall gold stems. On the back counter 2 candle sticks that will have cream colored candles added were placed.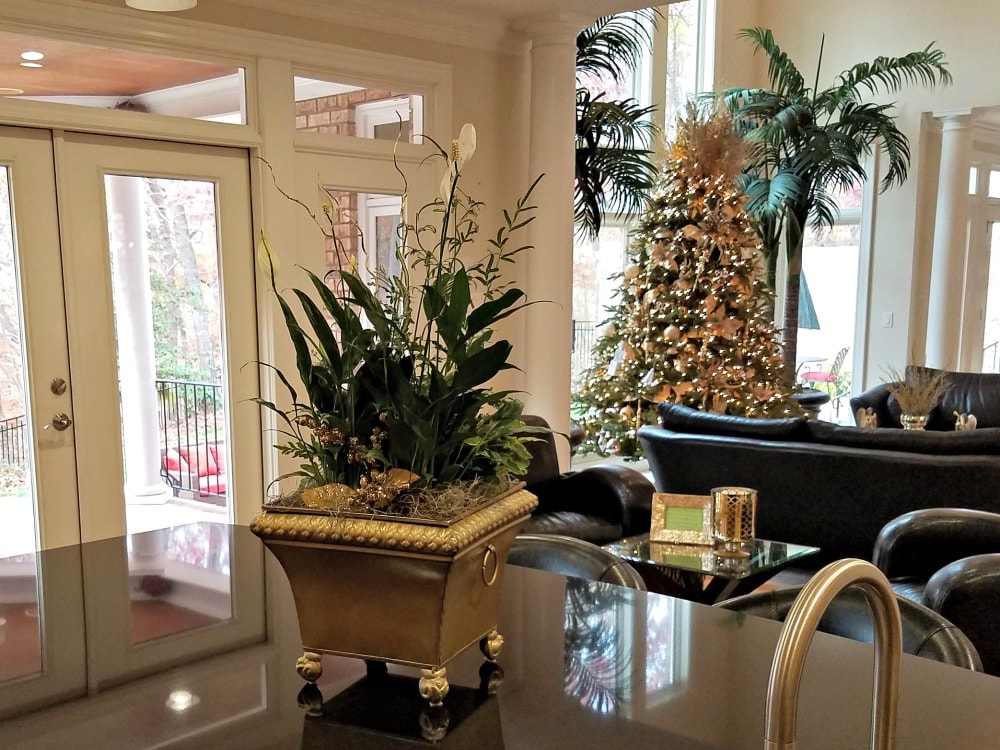 Dining Area
An arrangement was made in a very large gold bowl with scalloped edges. In the center another large JOY ornament was used. Around this I added greenery, gold sprigs, and gold sparkle ornaments.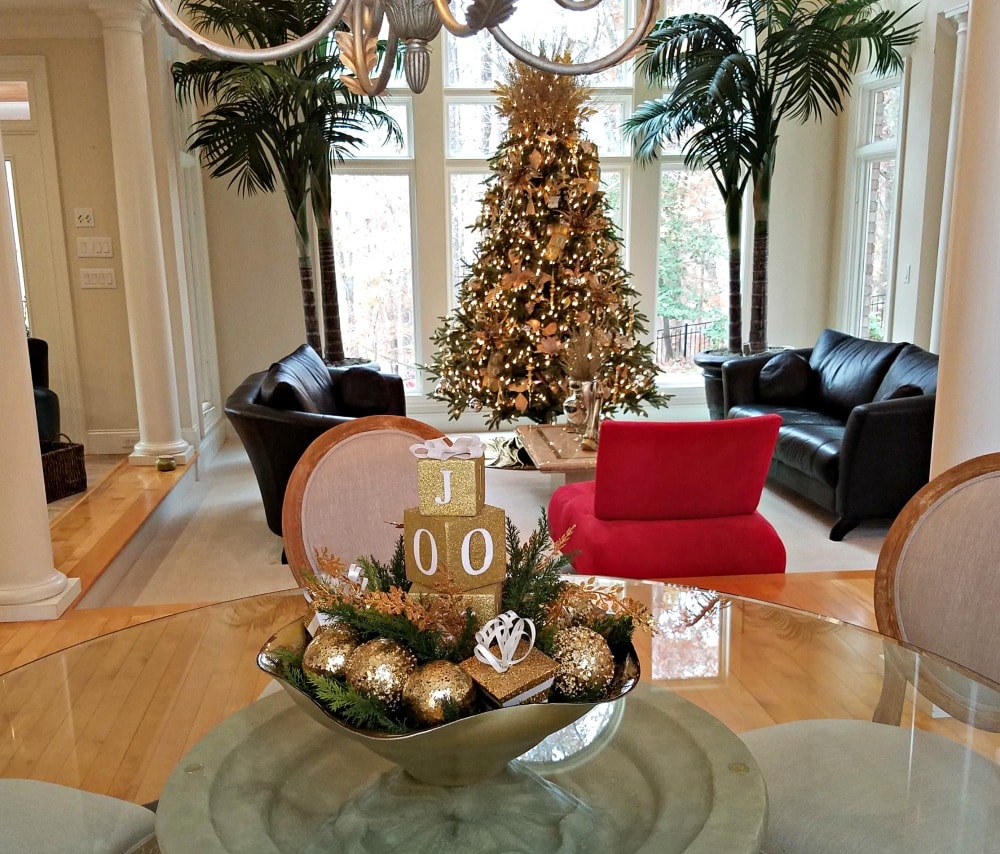 TV Area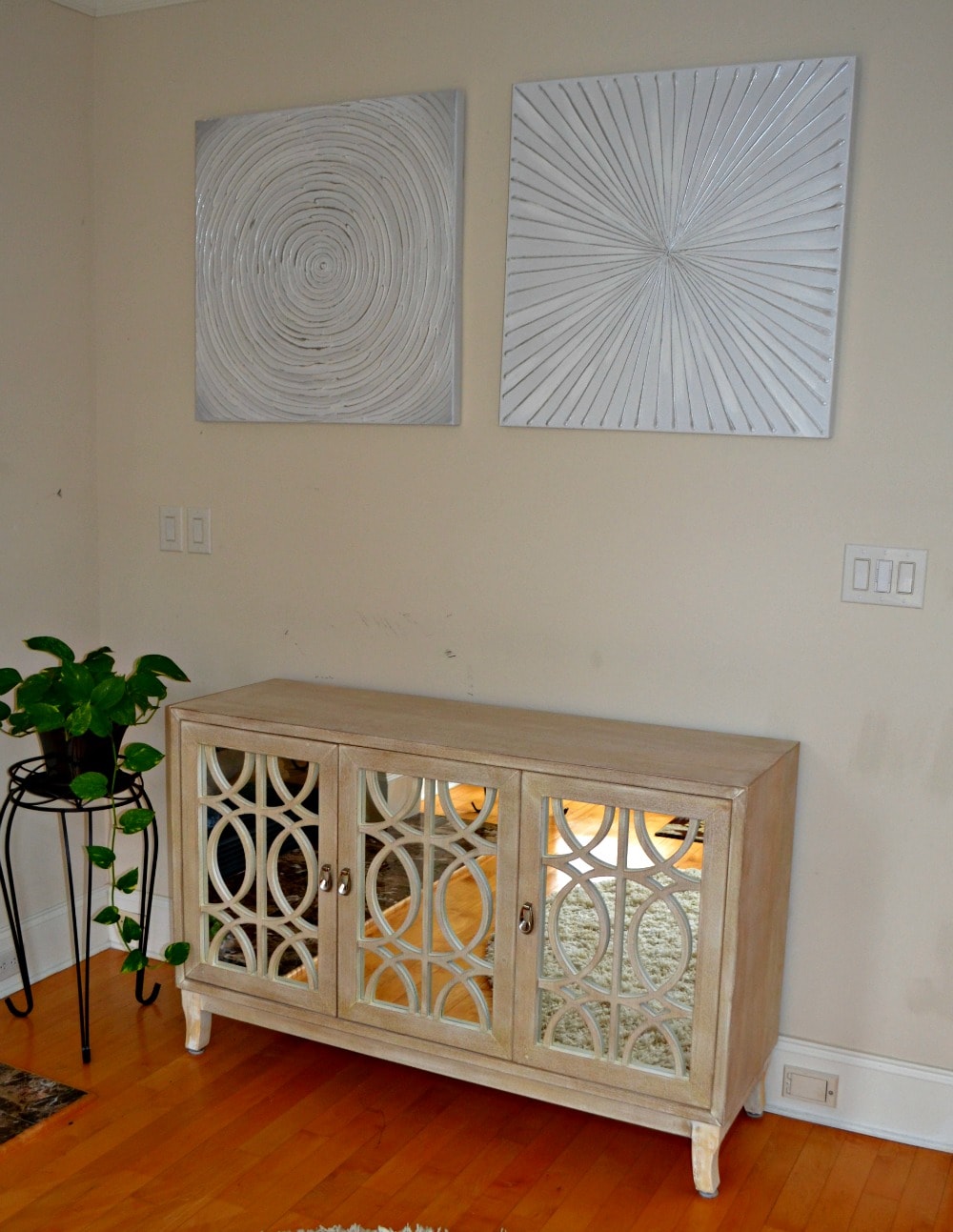 On each side of the fireplace hearth I placed two tall mercury glass trees.  The wooden and glass console table in the same area was decorated with a glass mirror pedestal on which I put a custom arrangement of velvet cream poinsettias and greens with just a sprig of gold. In the middle of the table a cream colored JOY ornament and on the sides 2 stair step ornate trees.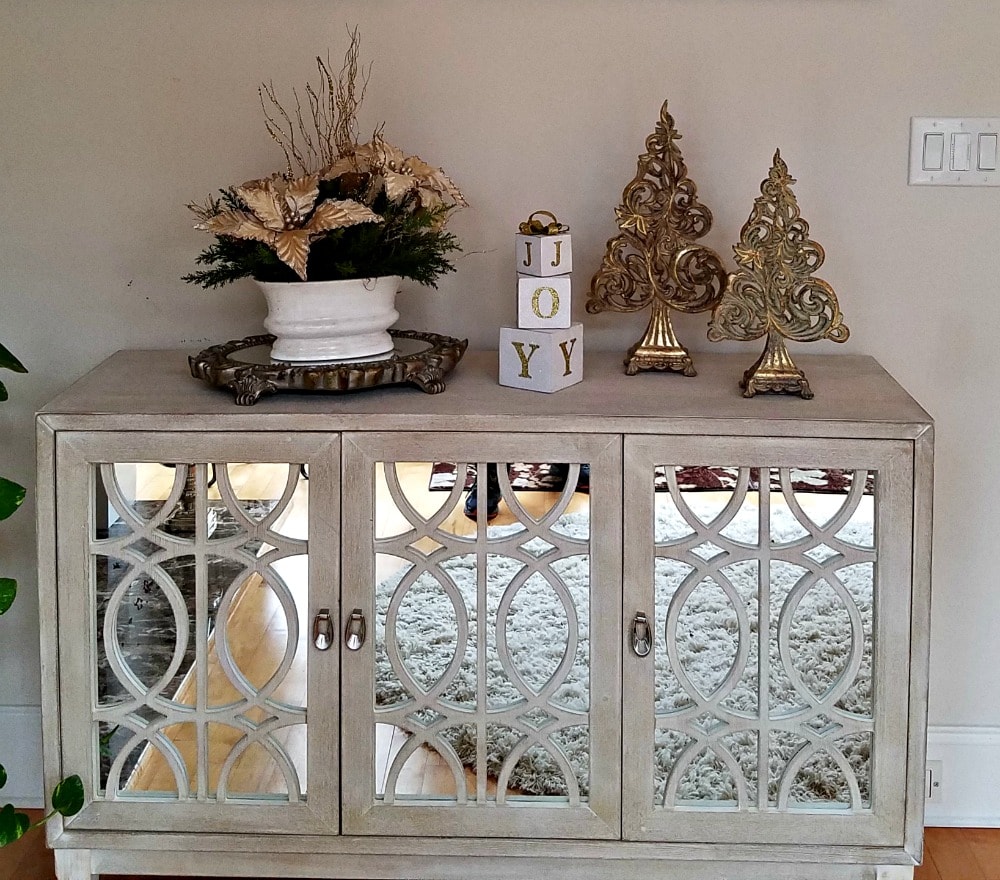 Reading Room
A large white live poinsettia was added with gold foil.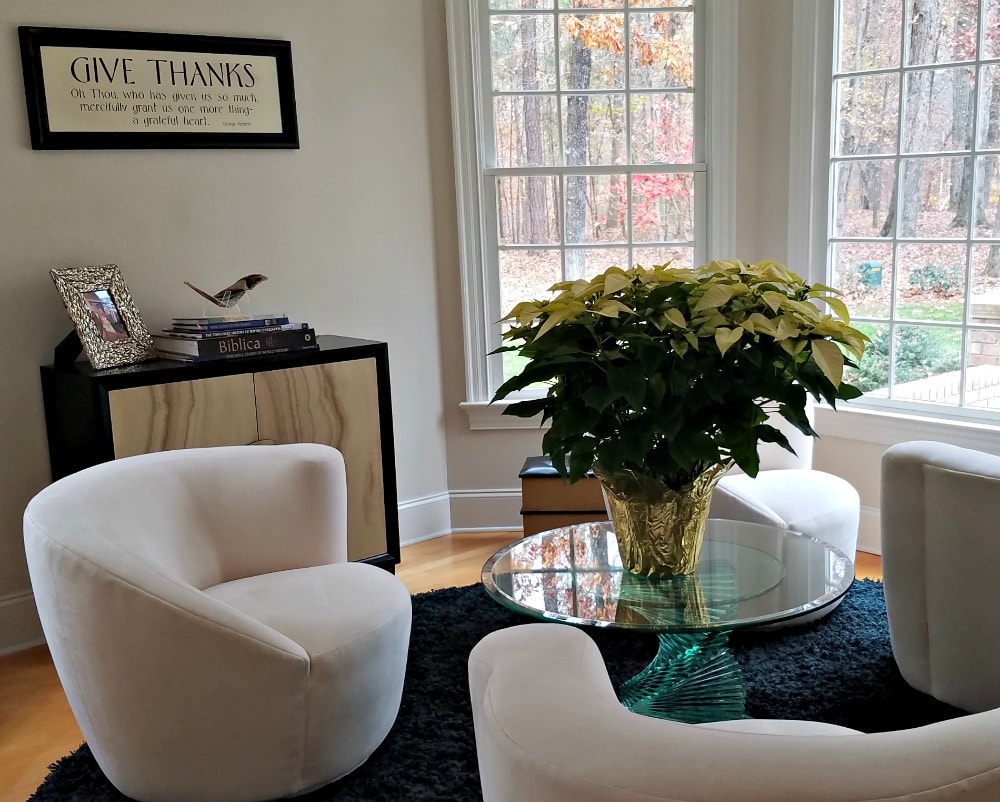 I feel so blessed to have been given the opportunity to decorate this beautiful home and to work with such a sweet spirited lady.  As much as I love to decorate, I love working one on one with our customers to make their decorating dreams come true even more!  Over the years I have meet wonderful people and am happy to call them not just customers but a dear friends too!
I am always willing to help with your decorating needs. I hope you will call on me anytime you need decorating assistance.
Merry Christmas and Happy Decorating!
Phyllis Rollins