Fairview Garden Center Named Top Garden Center for 2016
Fairview Greenhouses and Garden Center, Inc. has been named one of the top independent garden centers in the United States and Canada by Garden Center magazine.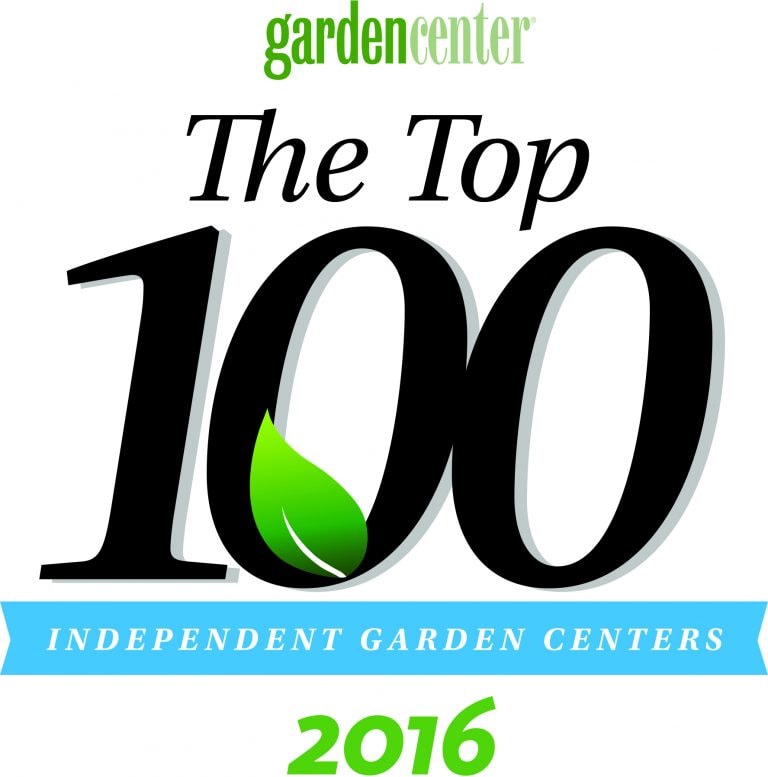 Fairview Garden Center ranked #84 on the 2016 Garden Center Top 100 Independent Garden Centers list, which was published in September and sponsored by AmericanHort and Bloem.
"Our Top 100 list includes some of the best and brightest leaders in the garden center industry," said Garden Center Editor Michelle Simakis. "In addition, we profiled 20 of these companies from across our list and across the country to find out what makes them successful."
The Garden Center Top 100 is based on 2015 sales volume from independent garden centers, and is reported by each company listed. Companies on the Top 100 list earned combined revenues of more than $1.1 billion in 2015. The list includes companies from 36 states in the U.S. and three provinces in Canada.
This year's list was compiled by Garden Center editors during the summer of 2016.
ABOUT FAIRVIEW GARDEN CENTER
For more than 40 years, Fairview Garden Center has provided exceptional plants and flowers in Raleigh, NC and across the Triangle area. Our humble beginnings began with Jo Ann Dewar's passion for gardening, and she still runs the show alongside her children and grandchildren.
At Fairview, we stay true to our motto, "Commitment to uncompromising quality," and we ensure you that our products are some of the finest homegrown plants and flowers in the Triangle. Each member of our staff is highly knowledgeable about growing plants at our Raleigh greenhouse, and you'll consider them family as they assist you in selecting plants that are best for your landscape or lighting conditions, analyzing and solving your pest problem, or designing a container garden or wreath for your front porch.
ABOUT GARDEN CENTER MAGAZINE
Garden Center magazine is the leading industry trade publication serving independent garden center retailers in North America. Garden Center is known for providing relevant, timely and engaging content in every issue, with a focus on management, marketing, trends and merchandising. With a suite of services – including monthly print and digital editions, daily news updates, news and product e-newsletters and apps – Garden Center provides business owners with the research, insight and analysis to help them grow their companies.
ABOUT GIE MEDIA
GIE Media Inc. is a leading B2B media company serving some 17 different industries through print and digital magazines, websites, e-newsletters, apps, conferences, reference books and other media platforms.
ABOUT AMERICANHORT
On January 1, 2014, AmericanHort was born by the consolidation of the American Nursery & Landscape Association and OFA—The Association of Horticultural Professionals. With a combined 220+ years of experience with the whole of the plant and horticulture services industry, AmericanHort was formed by the ANLA and OFA members to unify the industry, improve collaboration, increase organizational efficiencies, and expand the support for the industry's businesses. With that goal in mind, AmericanHort truly represents the entire horticulture industry, including breeders, greenhouse and nursery growers, retailers, distributors, interior and exterior landscapers, florists, students, educators, researchers, manufacturers, and all of those who are part of the industry market chain. It is the leading national association for the industry, and its size and scope makes AmericanHort the largest association for garden retailers in the world.
ABOUT BLOEM
Founded in 2012, Bloem is a leading designer and manufacturer of decorative planters and accessories. Bloem's commitment from day one has been to offer products that empower customers to be creative. Supported by constant innovation, aggressive growth strategies, and forward-thinking designs, this commitment has led to a diverse and colorful product line available at over 10,000 retailers in the United States and Canada. Bloem is headquartered in Hudsonville, Michigan with a second location in Apopka, FL. The company employs over 150 people, and in just four years has become the fastest-growing company in its segment of the lawn and garden industry, servicing over 30 percent of the market.