Perennials that Pack a Punch
Spring and Summer Interest
Daylilies (Hemerocallis)
Trumpet like flowers in a wide range of colors. Each bloom lasts for only one day, but the profusion of buds assures near constant flowering throughout the season. Very adaptable, low maintenance plants with attractive strap-like foliage. Divide every three years to maintain vigor. Cut back after blooming to within 3" from the ground for fresh foliage and to encourage re-blooming.
Hemerocallis 'Blackthorne'
This variety is heat and humidity tolerant, has beautiful large blooms of creamy yellow and dark purples, and has a high bud count.
24-26" H
Full Sun
Blooms in mid-Summer
Great choice for the summer garden!
Monarda 'Pardon My Purple"
A colorful, compact, dwarf variety perfect for the front of borders and containers. A butterfly & hummingbird favorite.
10-12"
Sun/Part Sun
Blooms in Summer
Deer resistant
Sedum
Succulent-leaves make it possible for most sedums to be extremely heat and drought tolerant. Most varieties are fall bloomers while some of the smaller varieties have earlier bloom times.
Sedum seiboldii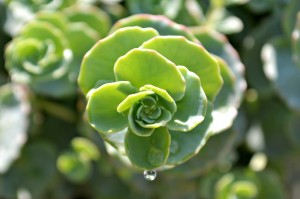 This variety works well in a hanging basket and will attract butterflies to your garden.
10" H
Full Sun – Part Shade
Blooms Summer to Early Fall
Deer Resistant
Sedum 'Thundercloud'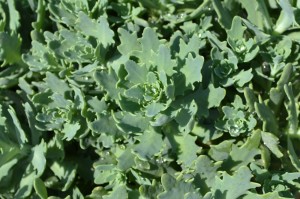 Blue green foliage remains strictly upright. Blooms with a plethora of pinkish-tan airy panicles which sit just above the foliage.
10-12" tall
Full sun- Part Shade
Blooms late Summer
Deer & Rabbit resistant
Caryopteris
Wonderful shrub to add cool blue to garden areas from late summer to frost.  Needs full sun and good drainage.
Caryopteris 'White Surprise'
Violet blue flowers compliment the white variegated foliage in June and July. Cut back to 6" in the spring as new growth appears.
30" Tall
Full sun
Attracts Butterflies
Deer resistant
Caryopteris 'Longwood Blue'
Clusters of flowers in shades of blue on woody perennial plants from late summer to fall.
36 – 48" Tall
Full sun
A favorite of butterflies
Cut back near to ground each spring
Caryopteris 'Gold Giant'
A butterfly favorite! This low maintenance perennials has attractive long lasting blue-lavender flowers as well as striking gold-green foliage which provides contrast in the garden
36-48" Tall
Sun/Part shade
Blooms late Summer-Fall
Deer resistant
Tolerant of drought & poor soils
Iris 'Starwoman'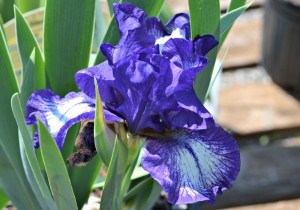 Fragrant and beautiful!  A blue-purple variety with a splash of white on ruffled petals.  Enjoy this beauty in the mid to late spring garden and also as a cut flower in your favorite vase.
Phlox 'Blue Paradise'
A new shade for garden phlox! A fragrant, long blooming variety with bright blue-violet blooms atop red tinged green foliage.
2 – 3' Tall
Full sun
Blooms in summer
Deer and rabbit resistant
Attracts butterflies