Top 10 Flowers and Foliage for 2016
Jo Ann's Top 10 Picks for Flowers & Foliage – 2016 Edition
At Fairview Garden Center we have our own "trial garden" where we plant the newest varieties of annuals.  Each year, Fairview founder Jo Ann Dewar monitors the garden to determine which varieties out perform all the others. Out of the many tried and true annuals that are planted, Jo Ann selects her favorites that meet the following criteria:
Require the least amount of maintenance

Retain the best quality all season long

Are the most showy from spring through fall

Are the most unique
Jo Ann Dewar (aka "Anma") began growing plants as a hobby in her backyard greenhouse over 42 years ago.  Her knowledge and experience in growing beautiful, unique plants speaks for itself when you enter the over 14,000 square feet of retail greenhouse space at Fairview.  When Jo Ann speaks, people listen.  Our plants have been carefully curated and propagated by her seasoned hands.  Here are her favorite colorful picks for this year:
10.  Angelonia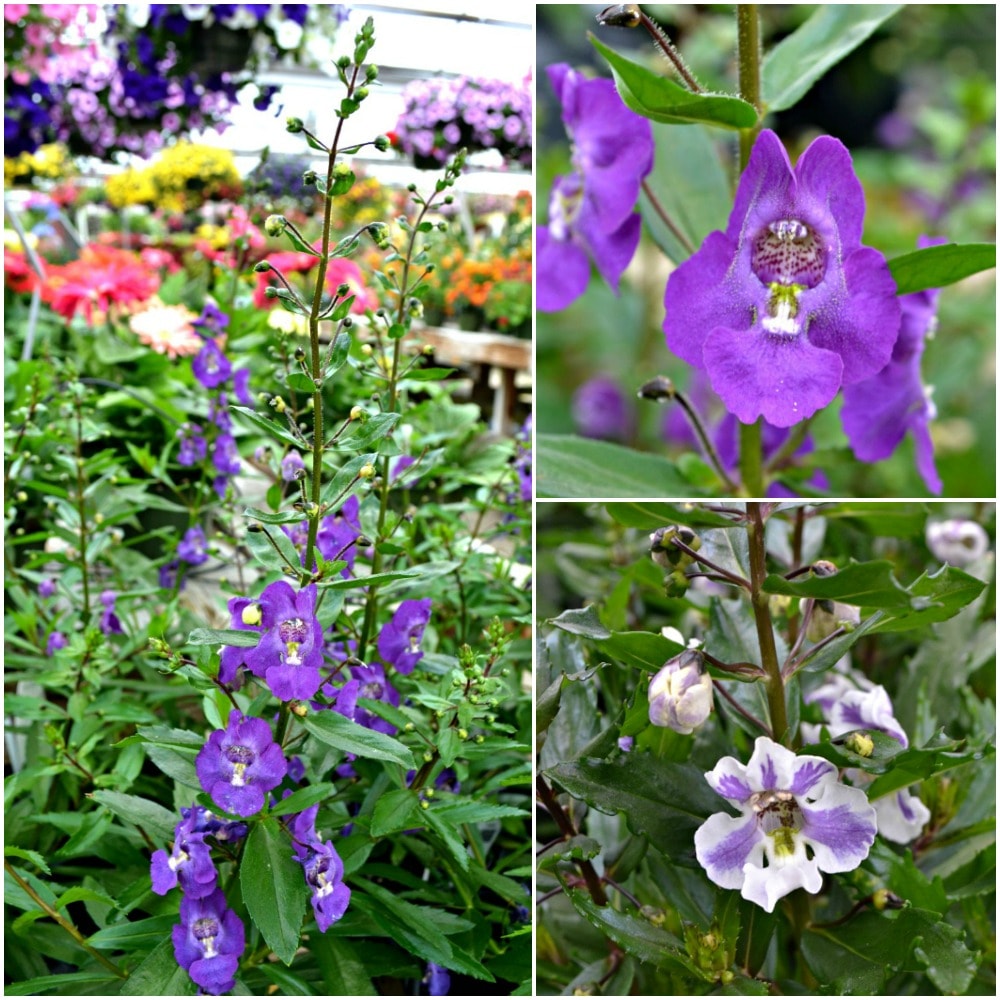 Angelonia angustifolia.  This wispy, lovely annual flower comes in varying shades of white, pink & purple.  Angelonia is perfect for adding a low maintenance pop of color to the landscape and it blooms all summer long. It's spiky height makes Angelonia a great cut flower and the perfect addition to container gardens or flower beds.  In full sun Angelonia can grow to maturing at 12-18″ in height.  Once established, Angelonia is extremely heat and drought tolerant.
9.  Elephant Ears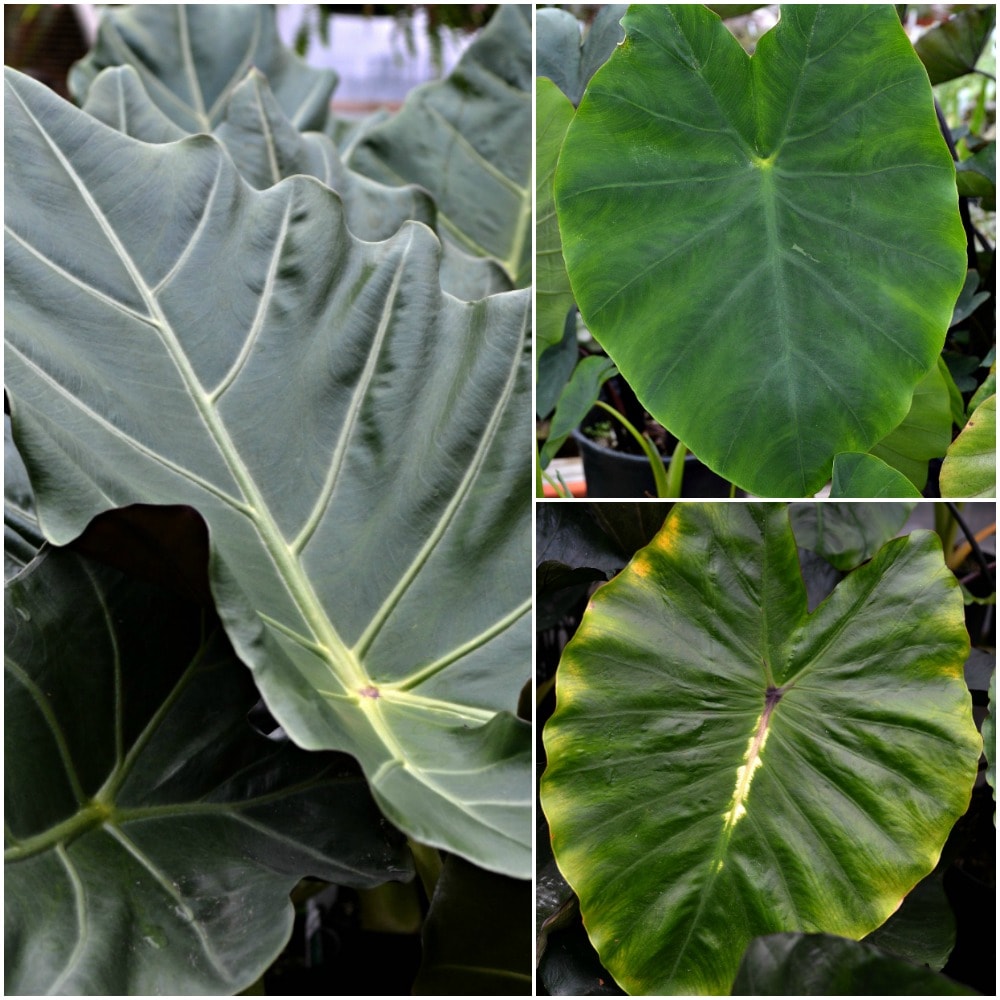 Colocasia sp. and Alocasia sp.  The bold tropical foliage of these plants provides a wonderful specimen in the garden.  The striking appearance make it an ideal centerpiece plant for a container, landscape or even in a water garden. From big and chartreuse to small and purple, there are many different sizes, colors and even names for Elephant Ear plants.  A few of our favorites include the green and purple variegated Mojito, the striking dark Black Magic, and the glossy deep veined Hilo Bold.  Most Elephant Ears prefer sun to part shade.  They are tuberous rooted annuals that enjoy moist soils.  Although some Elephant Ears are more hardy than others, you can dig up the bulb before the first frost and store for the winter.
8.  Firecracker Plant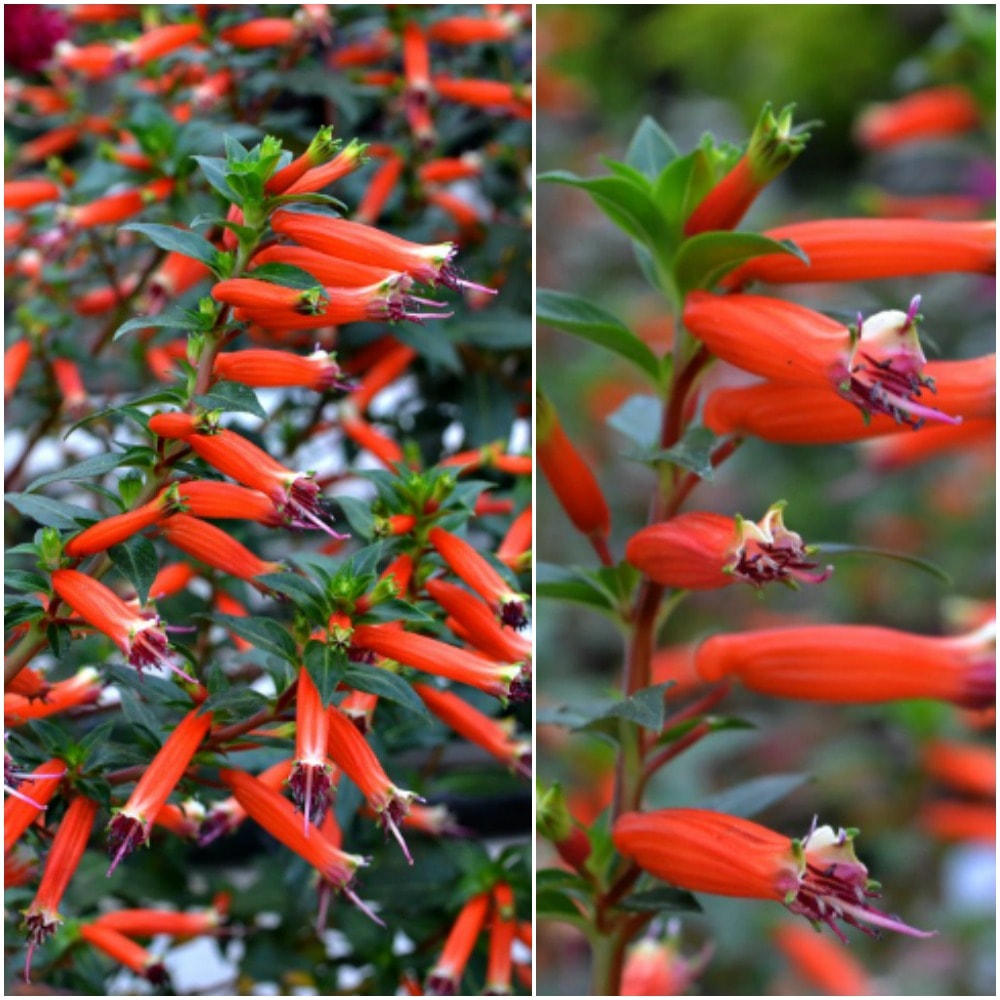 Cuphea i. 'David Verity'.    Bring on the hummingbirds!  Also known as the cigar plant, this annual plant is high impact and easy to grow.  This Cuphea produces bright orange-red, tubular shaped flowers with deep purple centers that attract pollinators.  It thrives in high summer heat and will tolerate drought conditions, but performs best with regular moisture.  In full sun, the Firecracker Plant can grow 18*-30″ tall and can be easily pruned late in the season to maintain it's shape.
7.  Caliente(R) Fire Geranium
Pelargonium x 'Caliente Fire'.  Bring on the heat!  A hybrid between Ivy Geranium and Zonal Geraniums, this new class of Geranium is excellent for that scorching hot location.  The bright red blooms and deep green foliage provide an excellent contract in the garden.  Mix this plant in a planting around your sunny mailbox for easy, showy color.  In full sun, the Caliente Fire Geranium will grow 12-18" tall and wide.  This Geranium will bloom like crazy and will require some deadheading for best results.
6.  Persian Shield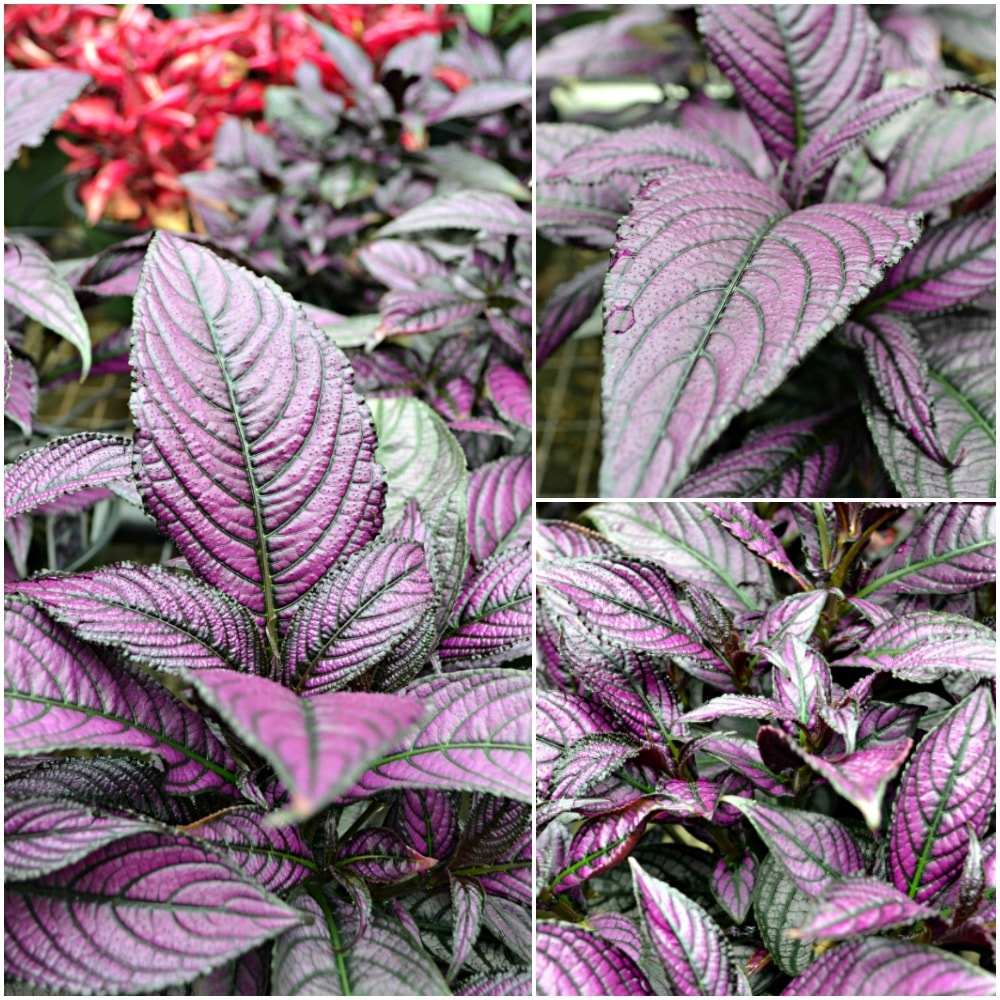 Strobilanthes dyerianus.  This unique, glossy foliage plant will add texture and color to any shade garden.  Deep purple leaves with a silvery sheen can add a tropical touch to a shady corner.  In order to maintain a nice purple color, keep out of the sun.  In full to part shade conditions, Persian Shield can grow 24″-4′ tall.  This fast growing annual is a great addition to a pot on a shady porch and pairs well with brightly colored, shade loving annuals.
5.  Maui Punch Canna Lily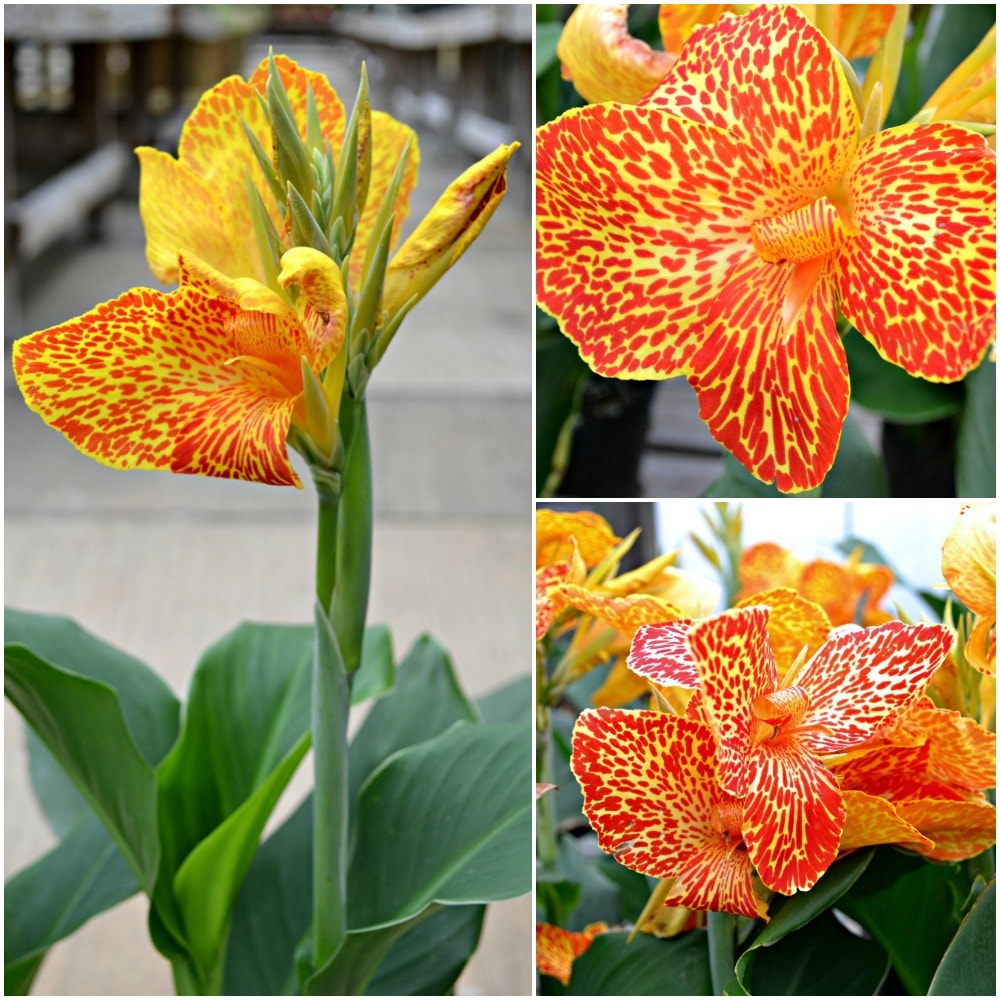 This hybrid, hardy Canna produces beautiful yellow flowers speckled with orange-red spots rising above apple green foliage.  The compact growth habit of Maui Punch makes it wonderful for containers, or massed in the garden.  Cannas prefer moist soil but once established, Maui Punch is very drought tolerant.  When planted in optimal full sun conditions, this canna can grow 30-36″ tall and wide.  Blooms last from late spring through September.
4.  Princess Napier Grass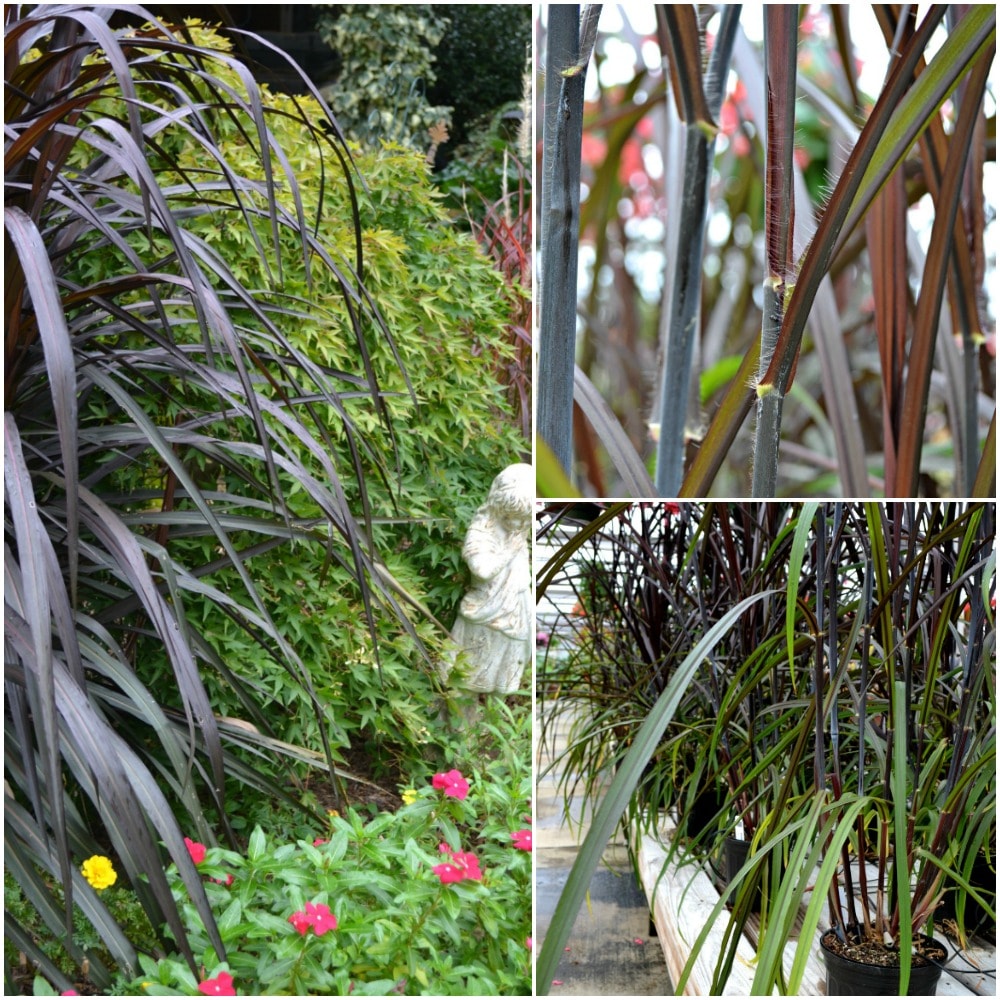 Pennisetum p. 'Princess'.  Vivid color and unique texture make Princess Grass a perfect accent plant for the spring and summer garden.  The mounding foliage with wide blades becomes increasingly deeper in purple color as temperatures rise throughout the season.  In full sun, this grass grows 3-4′ tall and wide.  The compact growth habit of Princess Grass makes it a striking addition to color beds or container gardens.
3.  Superbells(TM)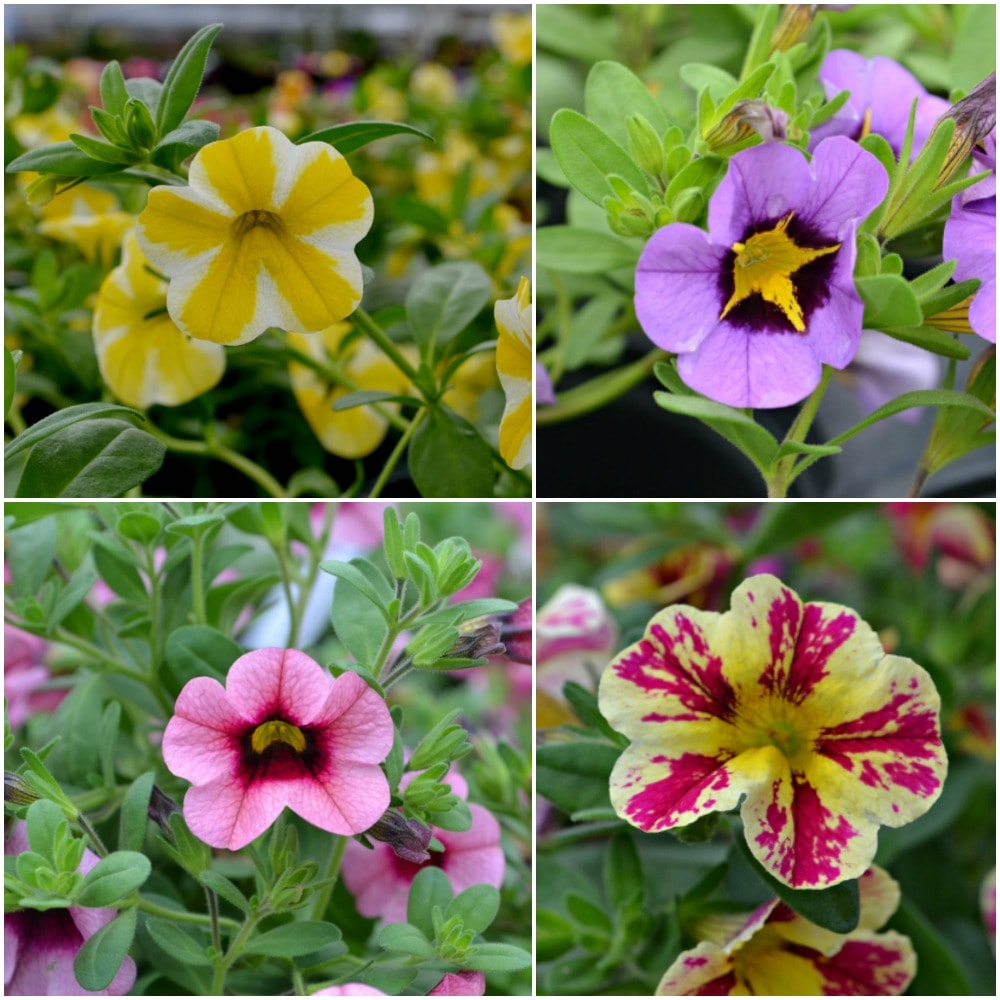 Calibrachoa hybrid.  Calibrachoa are a gorgeous mounding and trailing summer annual perfect for containers and hangind baskets.   The everblooming mini-petunia shaped flowers cover a spectrum of colors.  Superbells(TM) flower profusely in full sun and tend to produce slightly larger flowers than other Calibrachoa.  This trailing plant grows to just 6-12" tall.
2.  Trailing Red Mezoo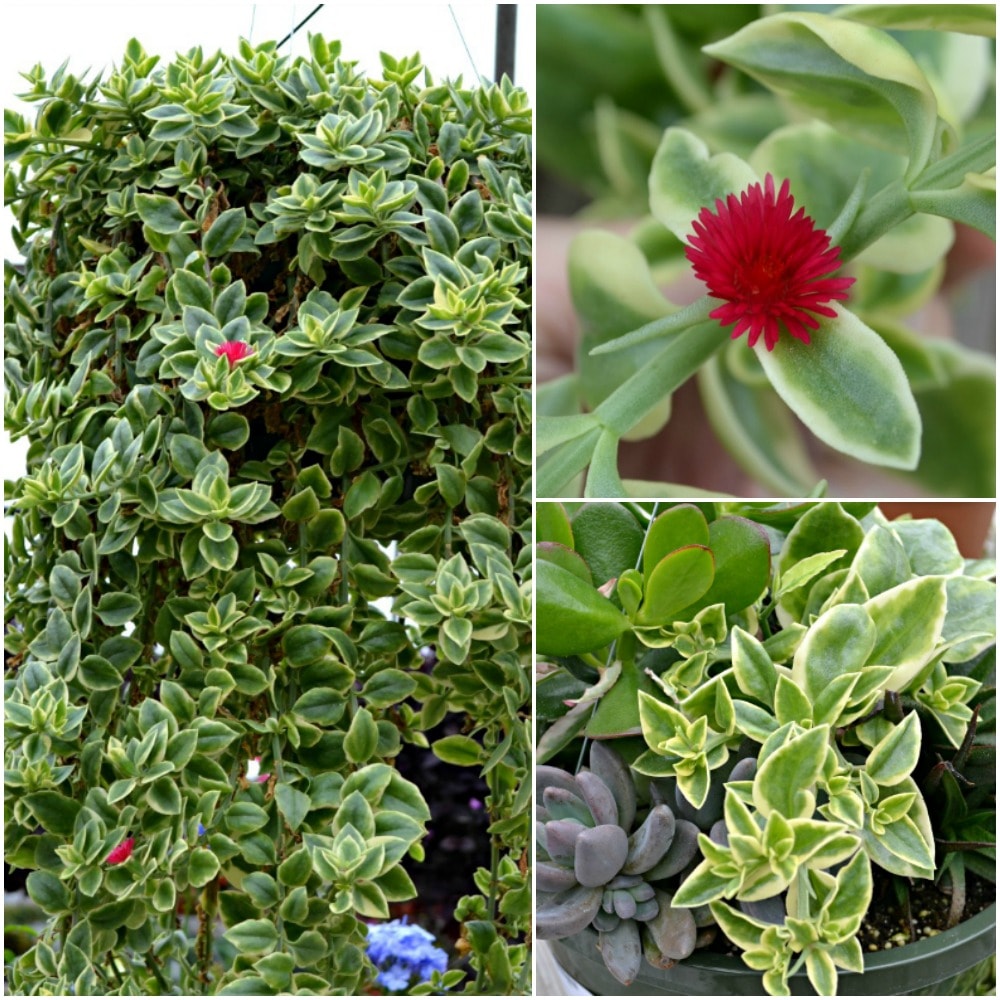 Dorotheanthus.  A fast growing annual succulent that can take drought like conditions.  Unique, bright red blooms stand out against cream and green variegated foliage.  In warm, full sun conditions, Mezoo will bloom sporadically from spring to fall.  Great for hanging baskets, Mezoo grows 4" tall by 18" Wide.  Mezoo is an easy addition to a trendy succulent arrangement.
1. Bounce(TM) Impatiens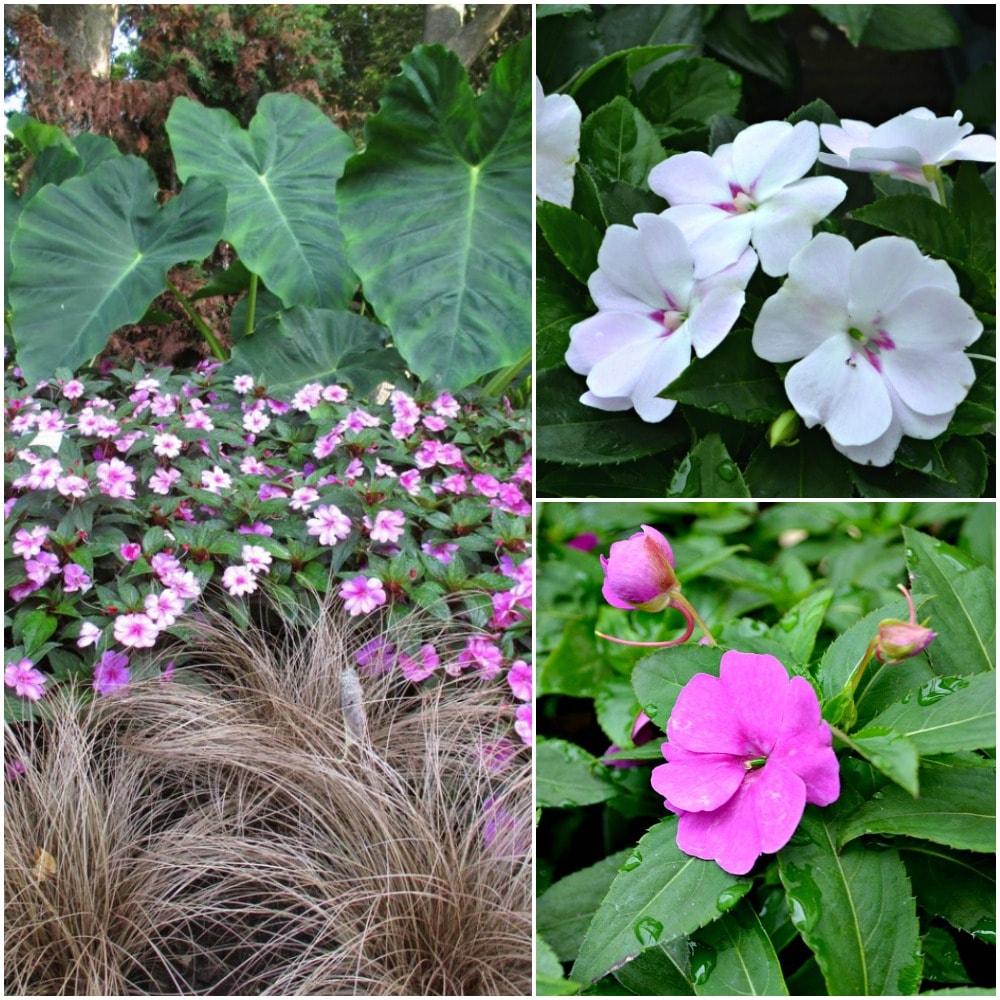 Miss a watering?  Don't worry, these plants will "bounce" back.  Bounce Impatiens provide fantastic, long lasting color for shade or lightly sunny garden spots.  The blooms of this disease resistant, Impatiens hybrid last from early spring until first frost.  Bounce Impatiens have a mounding growth habit, growing to 14-20″ at maturity.  Bounce Impatiens come in a variety of shades of pink, purple and white.
This list is just a small sampling of the thousands of plant varieties grown at Fairview Garden Center.  We grow a lot of plants but supplies are limited.  Spring fever catches fast and many of these beauties will be gone in no time.  Be the envy of your neighborhood and get this year's list of Jo Ann's favorites fast!
See lists from previous years: