Top 10 Flowers for 2018
With so many annual plants to keep up with and learn about, it can be downright confusing (and even frustrating) to choose the right flowers for the right spot in your garden.  So, to help our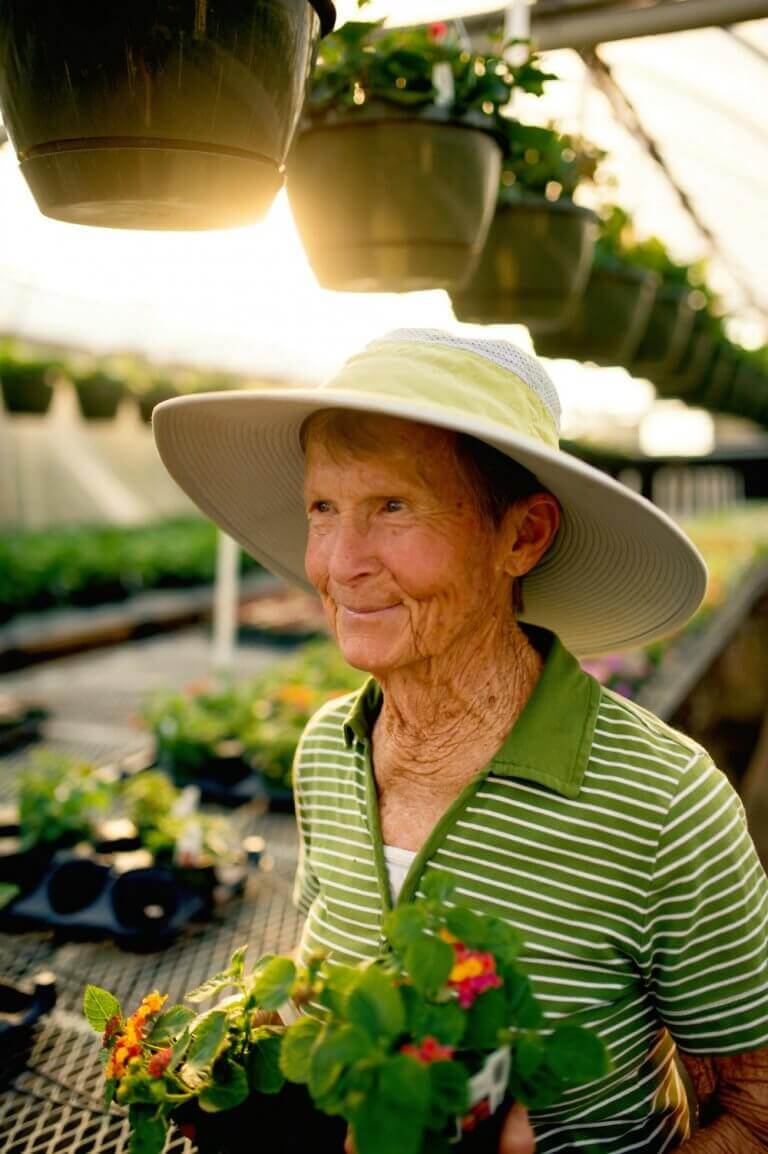 customers make better and more informed decisions we consulted our very own Jo Ann Dewar, owner and founder of Fairview Garden Center, for advice on choosing the right plants this spring.  A wealth of endless knowledge, Jo Ann understands her plants better than most in the industry and has earned quite the reputation over the years. After convincing her to take a break from her propagation tables, we sat down with Jo Ann and got a little advice about some of her favorite greenhouse gems for this year.
Each year Jo Ann (aka "Anma") plants the newest varieties of annuals in her trial garden. She will monitor those plants throughout the growing season to determine which varieties out-perform all the others.  Out of the many tried and true annuals that have been planted over the last year, these are her favorites that meet the following criteria for 2018:
Retain good structure and quality all season long
Low maintenance
Are the most showy from spring through fall
Are the most unique and interesting compared to previous selections
Black Eyed Susan Vine
(Thunbergia alata)
The old fashioned Black Eyed Susan Vine (not related to Echinacea) now comes in a wide variety of colors!  The traditional annual climbing vine is known for vigorous growth and abundant yellow flowers with dark centers resembling the perennial Black Eyed Susan flower.  This prolific blooming vine will flower from Spring through the fall.  Now available in shades of pink, yellow and orange.
Prefers Full to Partial Sun
Can reach 6-8′ on trellis
Fast growing and low maintenance vine
Great on trellis, mailbox, fence or garden wall
Trailing Purple Lantana
(Lantana sellowiana)
Jo Ann loves purple!  And this low growing, mat forming lantana has lovely lavender colored flowers with an excellent, delicate fragrance.  Trailing purple lantana is a great selection in container garden combinations, at the front border of annual beds or trailing over a wall.
8" Tall & 4' Wide
Full sun to Part Sun
Annual
Drought tolerant
Deer resistant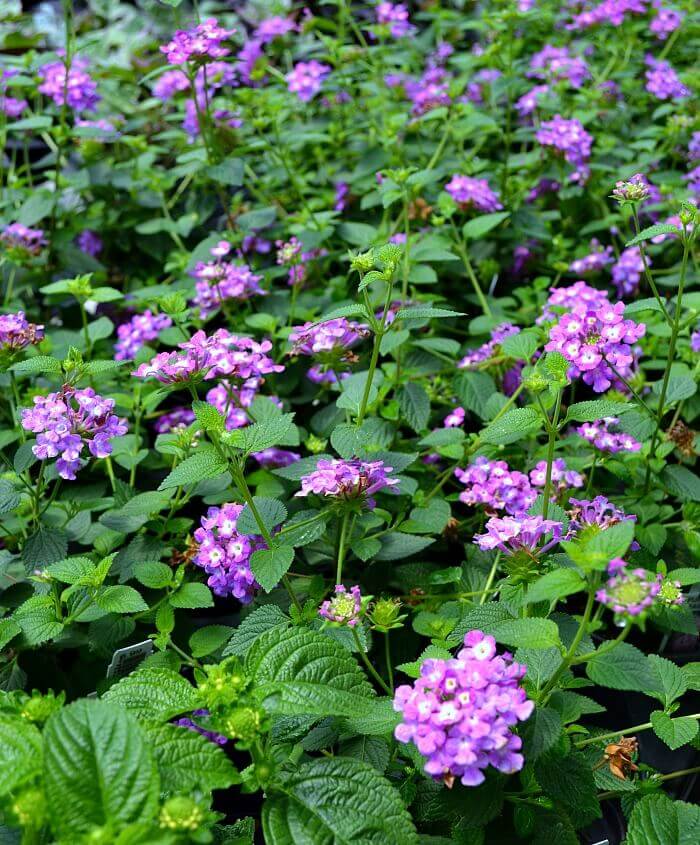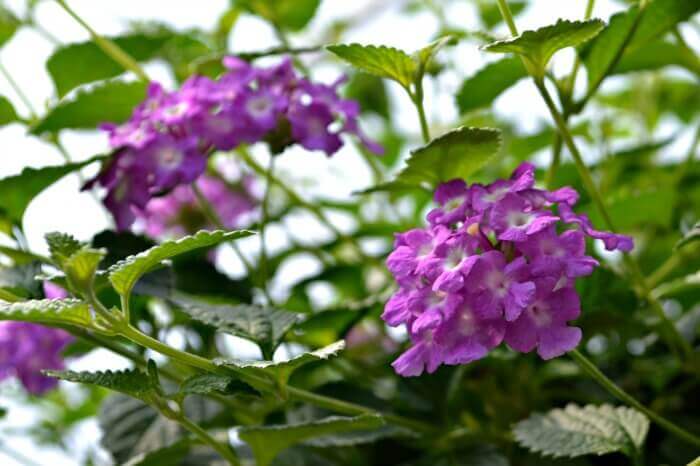 Wild Romance New Guinea Impatiens
(Impatiens hawkeri)
These new varieties of full shade New Guinea impatiens boasts a rose-like appearance with a few extra petals per flower.  They are currently in available in Blush Pink and White.  
8-10" Tall & 8-10″ Wide
Full Shade to Part Shade
Annual
Flower from spring through Fall
Great in containers
Vibrant & Compact Growing Sunpatiens
(SunPatiens)
Sunpatiens have been one of the latest and greatest introductions in the past years.  Now, the color are even more vibrant and the growth habit is more compact.  This new impatiens is unlike other traditional varieties, as it thrives in hot sunny conditions. Ideal for the garden border or for a mixed container. The compact series can grow 14-32″ tall and 14-24" wide in the garden.  Spreading SunPatiens can grow 18-36″ tall and 24-36" wide in the garden.  Vigorous varieties can grow 24-42" tall and 24-30" wide in the garden
Ht 18-36" – depends on variety
Full sun-Part Shade
Flowers spring through frost
Annual
Crazy Colors of Petunias
(Petunia spp.)
The wonderful world of petunias continues to grow!  Forget variegated foliage.  What about variegated flowers in all sizes, shapes and colors?  Low, spreading plants produce masses of 2 – 3" flowers. Great for containers or as a ground cover.
4 – 6" Tall
Full sun
Easy to grow
Crazy Colors of Coleus
(Solenostemon scutelleriodes)
Colorful foliage for the sun!  Who needs flowers when you have leaves this vibrant?  This hybrid sun-loving plant provides color and texture that lasts all summer long, until first frost.
1' – 3' H x 1' – 2' W
Full Sun
Great for Back of Borders or Height in Containers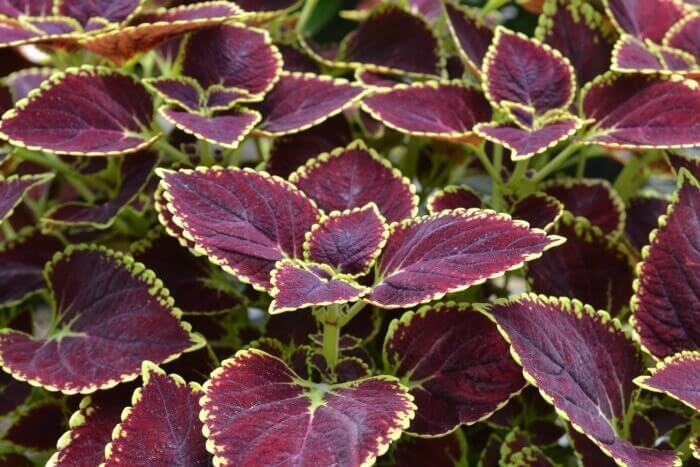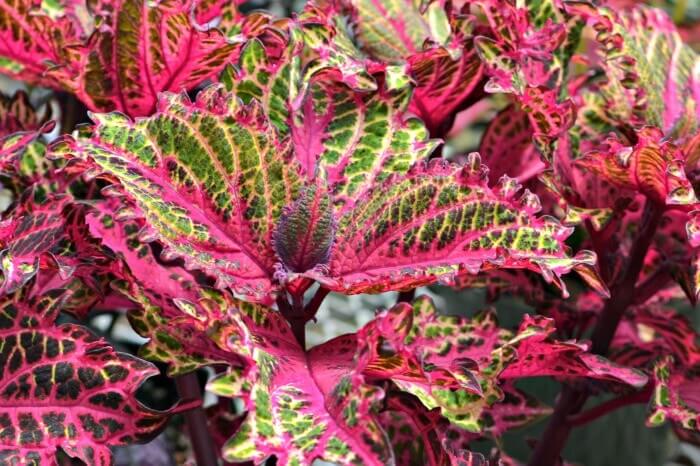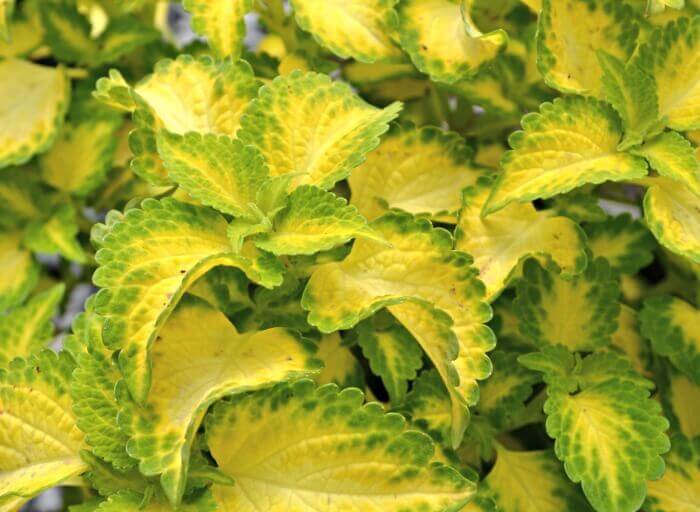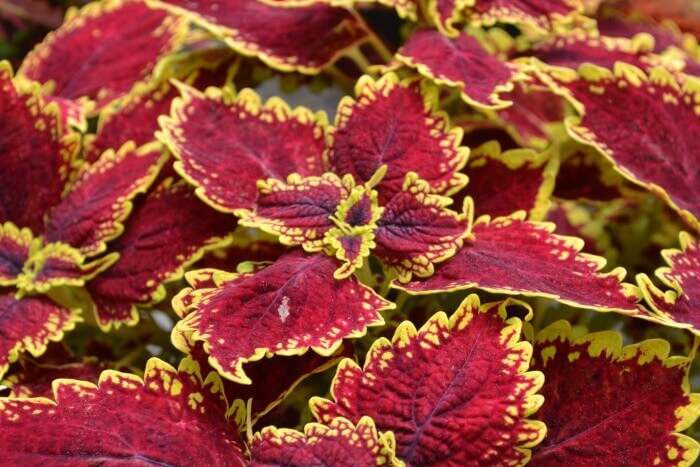 Fuchsia
(Fuchsia)
Upright – This lovely plant will add a burst of color to shadier spots in your yard. It features a lovely upright growth habit adorned with vibrant blossoms in shades of pink, purple or orange.
Trailing – Bright, showy, pendulous flowers contrast nicely with the dark green foliage. Blooms throughout the summer.
Prefer Morning sun and afternoon shade
Attract hummingbirds!
Prefer Well-drained soil
Midnight Sky Heliotrope
(Heliotropium aborscens)
An excellent container plant for its lovely scent – cherry pie crossed with vanilla.  The fragrant large heads of purple – blue flowers make this a wonderful addition to any flower garden.
Mounding growth habit

15" – 18" Tall
Full sun
Great for containers
Attracts butterflies
Geranium Calliope Large Salmon
(

Pelargonium interspecific

)
Bold orange-pink colored blooms cover this plant all season long. Fabulous in a container or window box.  Intense Color That Lasts™.  Excellent performance in the landscape and thrives under heat and drought conditions.
Full sun – part sun
Allow soil surface to dry between watering
10" – 18" tall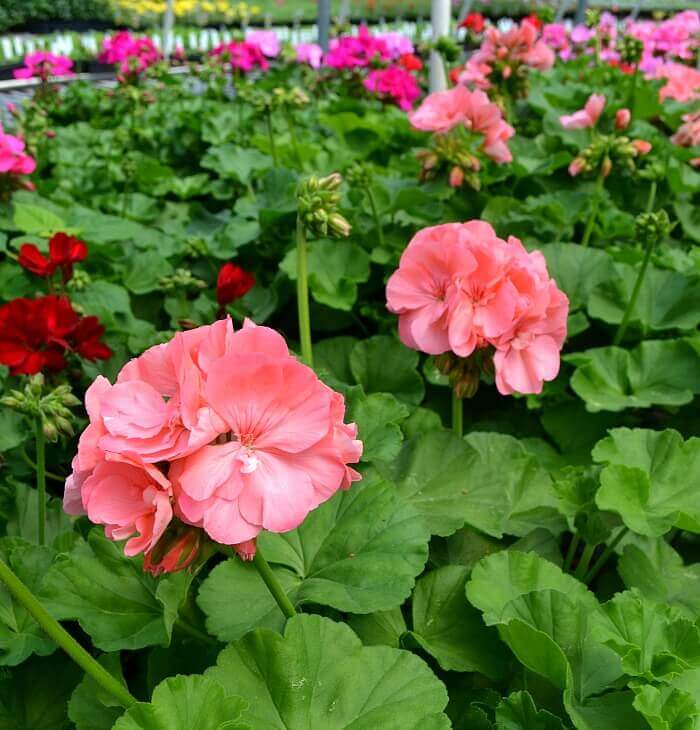 Albutilon Chinese Lantern Plant
(

Albutilon x

)
This old fashioned flower features dangling yellow flowers surrounded by vibrant red calyxes. Its variegated yellow and green leaves and sprawling habit are perfect for baskets or containers.
Prefers morning sun
Trailing
Blooms spring through frost
Allow soil to dry between watering