Top 10 Plants for 2022
Here at Fairview Garden Center we have our own "trial garden" where Fairview Founder Jo Ann Dewar plants the newest varieties of annuals. Each year she will monitor and determine which varieties out perform all the others. Out of the many tried and true annuals that have been planted over the last year, these are her favorites that meet the following criteria:
Require the least amount of maintenance
Retain the best quality all season long
Are the most showy from spring through fall
Are the most unique of all the many plants we grow at Fairview Garden Center
It's important to select the right plant for the right spot. Monitor the area in which you plan to hang your hanging basket closely to see how much the sun shines in your spot. Some plants can tolerate much more sunlight than others. Some are made for the shade.
Variegated Bougainvillea
The bougainvillea is a popular shrubby vine that blossoms into colorful flower bracts. This sub-tropical vine is a riot of color when in bloom. Ranging in color from pinks and purples to red, these drought-tolerant vines can be trained into bush or tree forms. Be careful though, with their beauty comes long sharp thorns. New cultivars are beginning to bloom in apricot, orange, white, and yellow. This plant can be trained to stand alone as a shrub or cover walls and spill out of beautiful hanging baskets. It can grow from 10 to 20 feet in a single growing season, but here in the Triangle, it won't reach quite these lengths. Bougainvillea requires full sun. As a drought-tolerant plant, it actually performs best when its soil is left a little dry.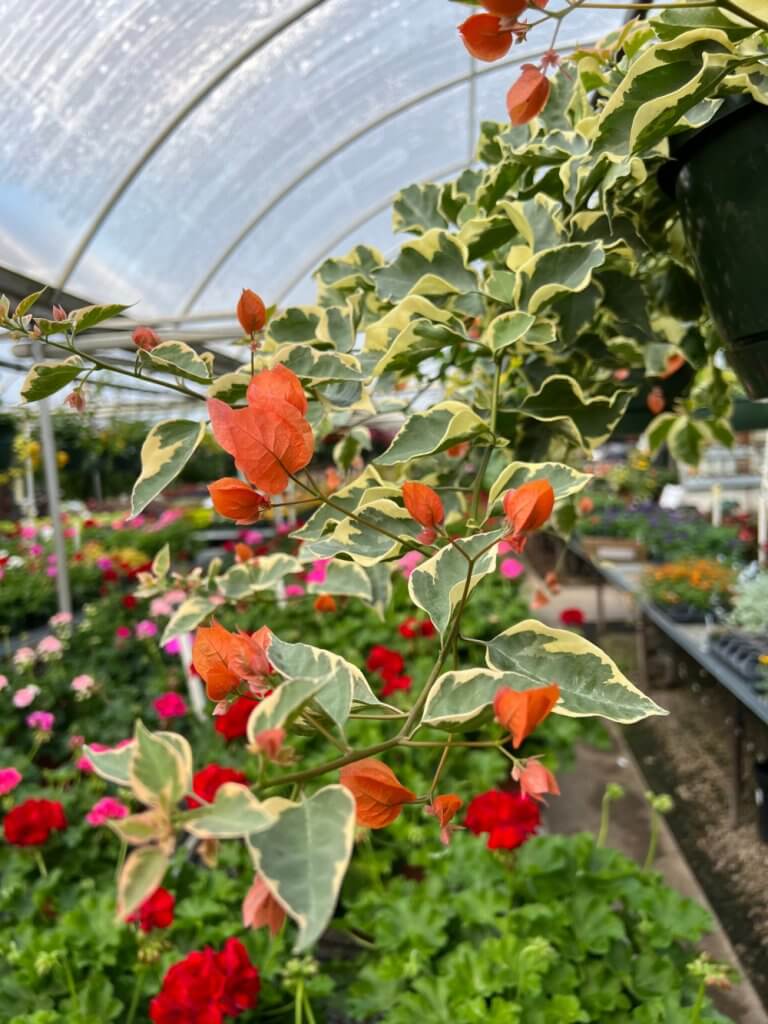 Climbing to 15' high
Spread 15-40 feet
Pink, orange, yellow, apricot, salmon, purple, and white bracts
Often grown as an annual or container plant
Full sun exposure
Rapid growth rate
Hummingbird Falls Salvia
Salvias are pollinator favorites, but hummingbirds, in particular, enjoy the tubular flowers they produce and the foliage is wonderfully aromatic! Hummingbird Salvia has vibrant blue/purple blooms that emerge from deep black bracts making it an excellent contrasting specimen in color beds.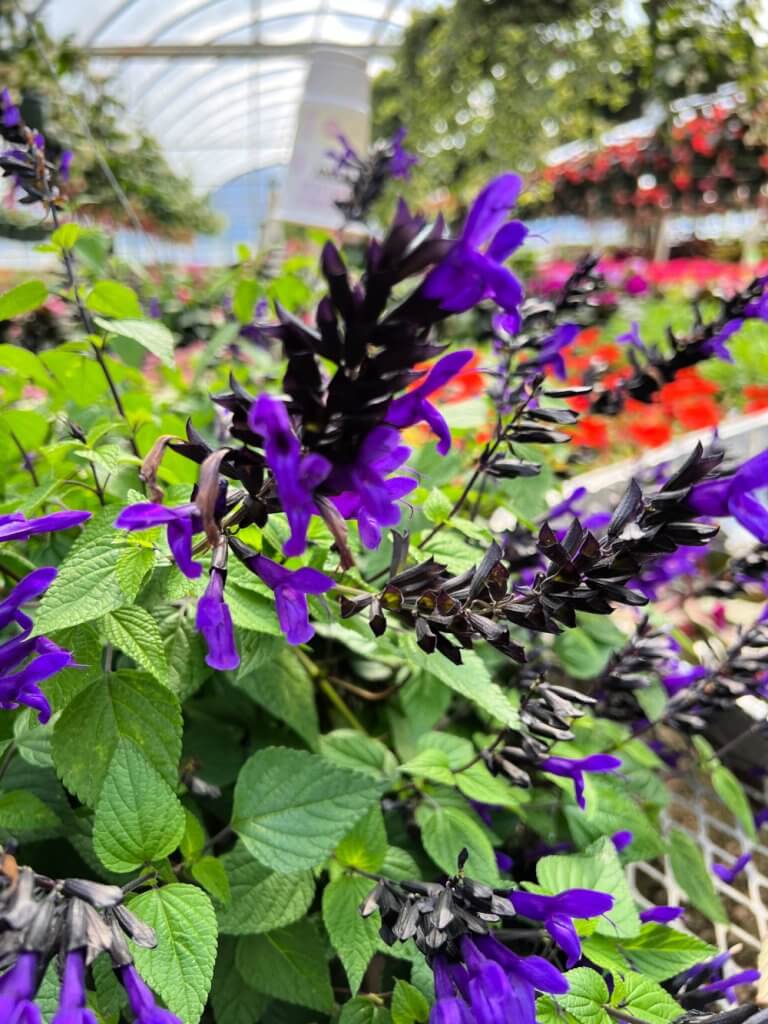 Salvias prefer full sun and well-drained soil
Loosen the soil to a depth of 12 inches
Water thoroughly and keep the soil moist through the growing season
Caladiums
Caladiums are tropical plants with heart-shaped leaves ranging in size from 6 to 12 inches. The numerous cultivars offer foliage colors in red, salmon, rose, white, or green with many variegated combinations. New introductions (like Allure) produce clear, white (almost translucent leaves). Their flower is a spadix surrounded by a yellow-green spathe. Grown mostly for their interesting foliage display, caladiums perform well in garden borders and containers. Most cultivars are adapted to full shade, but many selections tolerate partial sun or early morning sunlight. Full sun generally reduces the intensity of the foliage color of most cultivars. Mulch with a 2- to 3-inch layer of organic material to conserve moisture and keep the soil cool.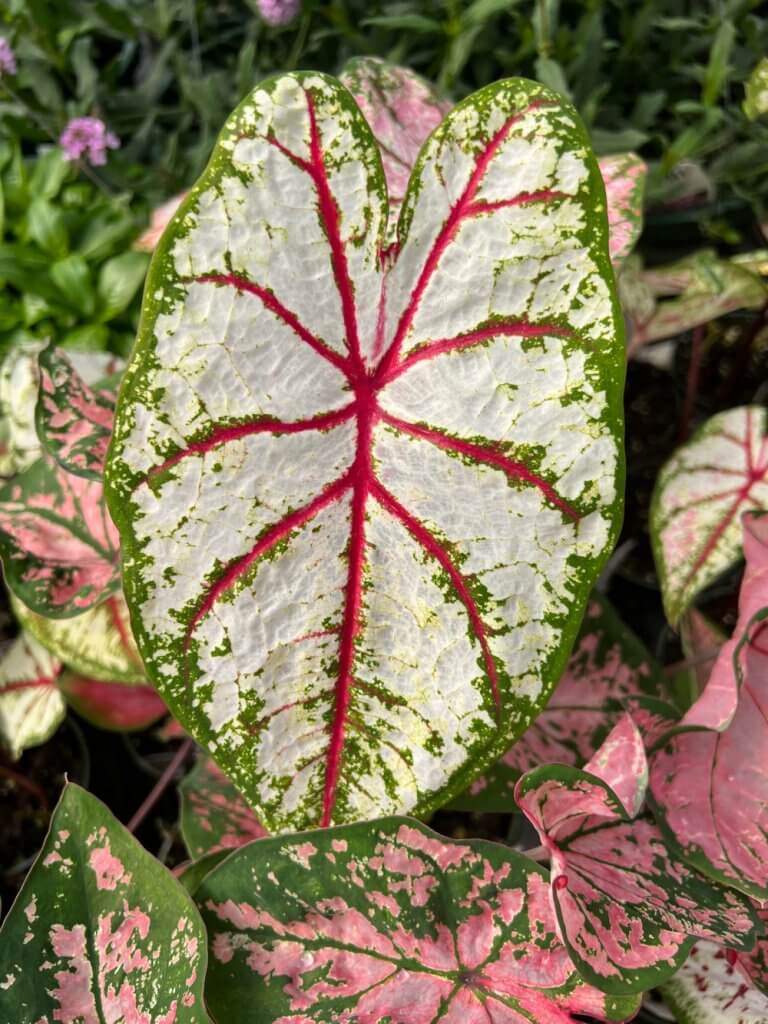 2' – 4' Tall
Enjoys morning sun with 50% shade
Loves humidity
Great in shade gardens
Perfect for the summer season
Needs 8-12 inches for space
Chameleon Calibrachoa (Million Bells)
Gorgeous mounding and trailing summer annual. Everblooming mini-petunia shaped flowers that cover a spectrum of colors. Flowers bloom from spring until first frost and attract hummingbirds and butterflies. Although Calibrachoa love the sun, they perform well in part shade. Great in container gardens or at the edge of color beds.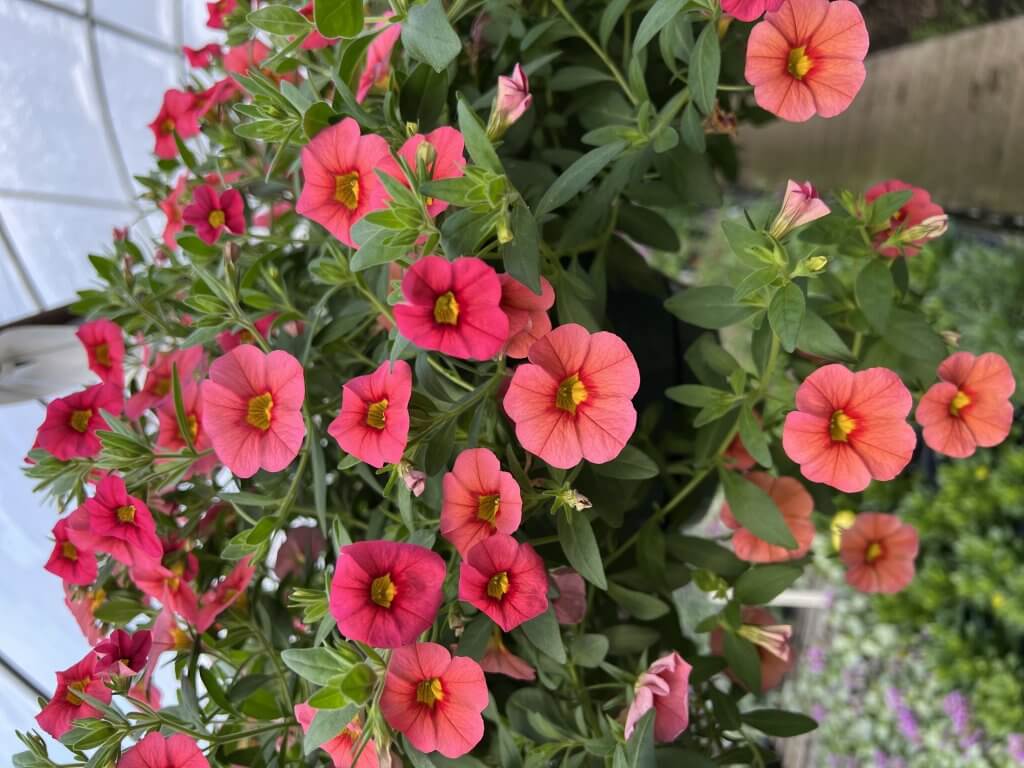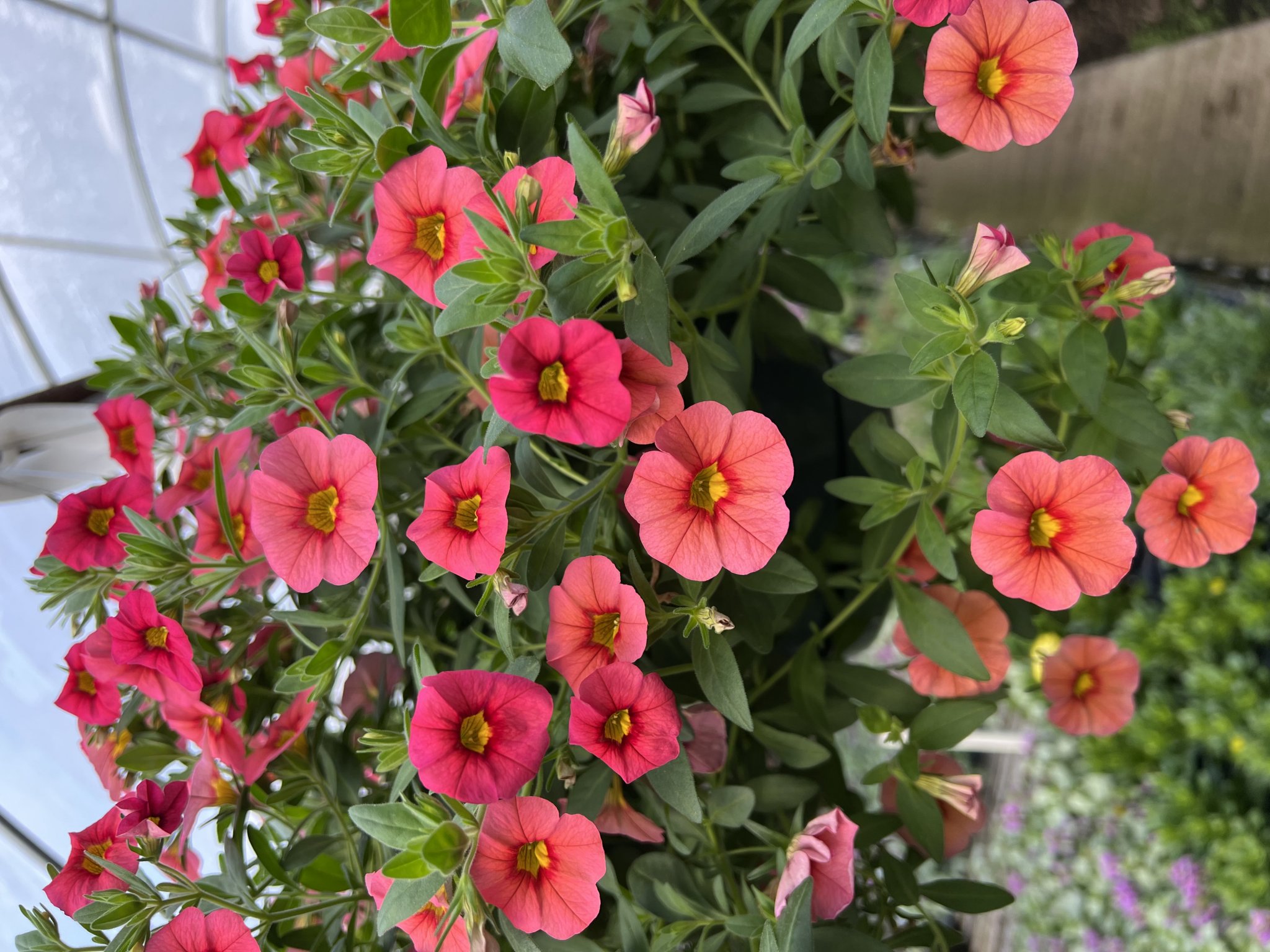 Easy plants to grow and look beautiful and full in baskets, containers or as ground cover.
Full to partial sun, in the warm summers of North Carolina some shade can be beneficial.
Soil should be kept moist, especially in the hot summer sun.
Hawaiian Snowbush
A Fairview Exclusive, this tropical annual does great both outdoors and in. It prefers to be planted in full sun but does just fine in part shade. Hawaiian Snowbush is a vigorous grower and spreads to about five feet wide. Does great in containers. Fertilize once a month. Fantastic showy leaves of pale pink, white and green and a delicate feel, Snowbush can be a fairly large in the landscape. As it matures, the leaves can get a bit of a burgundy color but retain a mottled mix of pale pink, grayish green and white. Snowbush will keep its color best in full sun. It's lovely as a stand alone but a show stopper planted in mass. Do yourself a favor and add Snowbush to your annual planting bed ASAP! It's a staple at Fairview and hard to find anywhere else.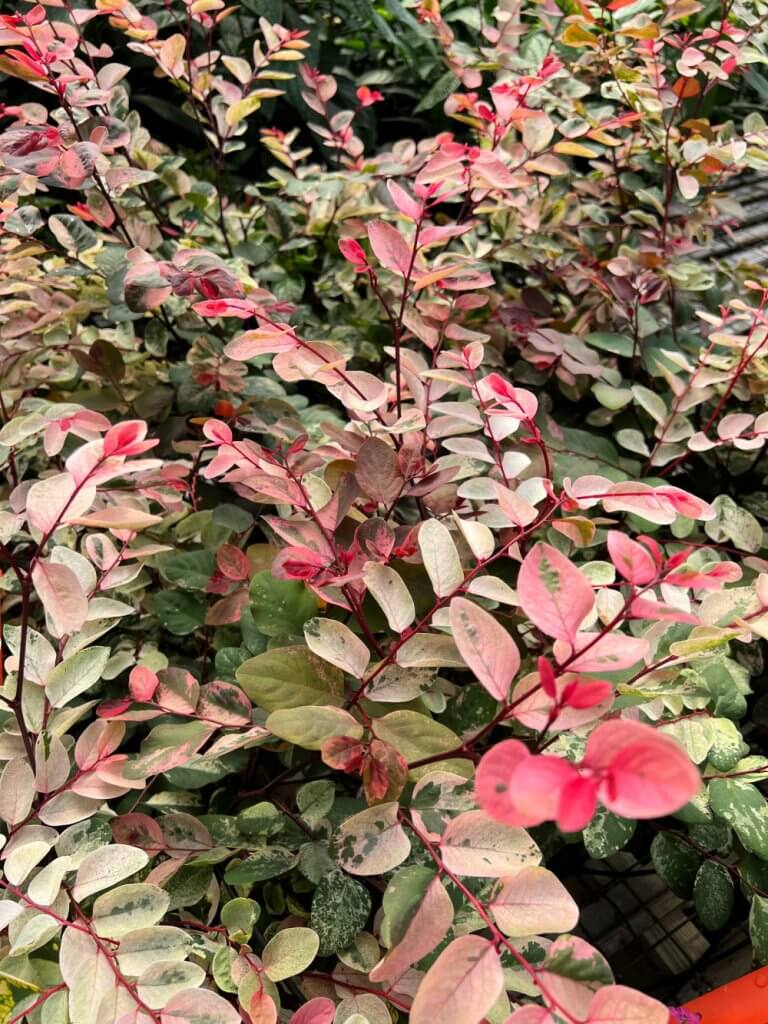 Light requirement: plant grows in part shade/part sun
Soil tolerances: acidic; slightly alkaline; sand; loam
Drought tolerance: moderate
Plant spacing: 36 to 60 inches
Streptocarpella
As one of our most popular varieties of hanging plants, the Streptocarpella plant creates a perfectly round hanging basket that is covered in vibrant purple flowers from spring to frost, creating a burst of color in even the darkest of places. It prefers to be in containers and when kept well watered–and fertilized every other week–will constantly stay full of vivid purple blooms! Streptocarpella is a great shade plant but can also take as much as 4 hours of indirect morning sunlight. Keep in mind, it does not like hot afternoon sun.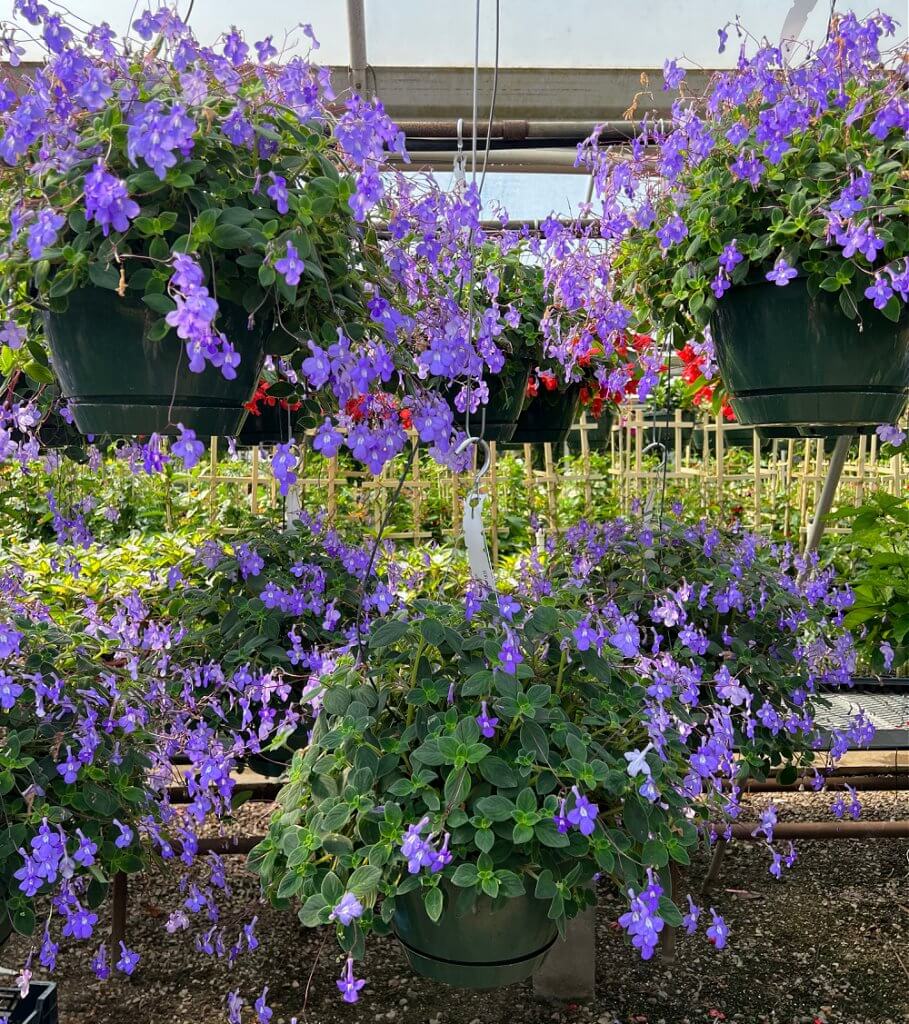 Need low to medium light
Cascading style
Attract hummingbirds
Likes consistent moisture
Princess Flower (Tibouchina)
Princess Flower (Tibouchina) is a tropical plant with vibrant purple flowers and "fuzzy" leaves that will bloom all season. In the landscape, Princess Flower can grow into a tall, upright shrub. Princess Flower or Tibouchina, wants full sun for its beautiful large purple flowers and splendid green leaves. It will tolerate some shade but will not thrive in full shade. Princess Flower planted in a landscape bed can get five feet tall or more. It has many uses looking spectacular around pools, as a specimen plant or in a container.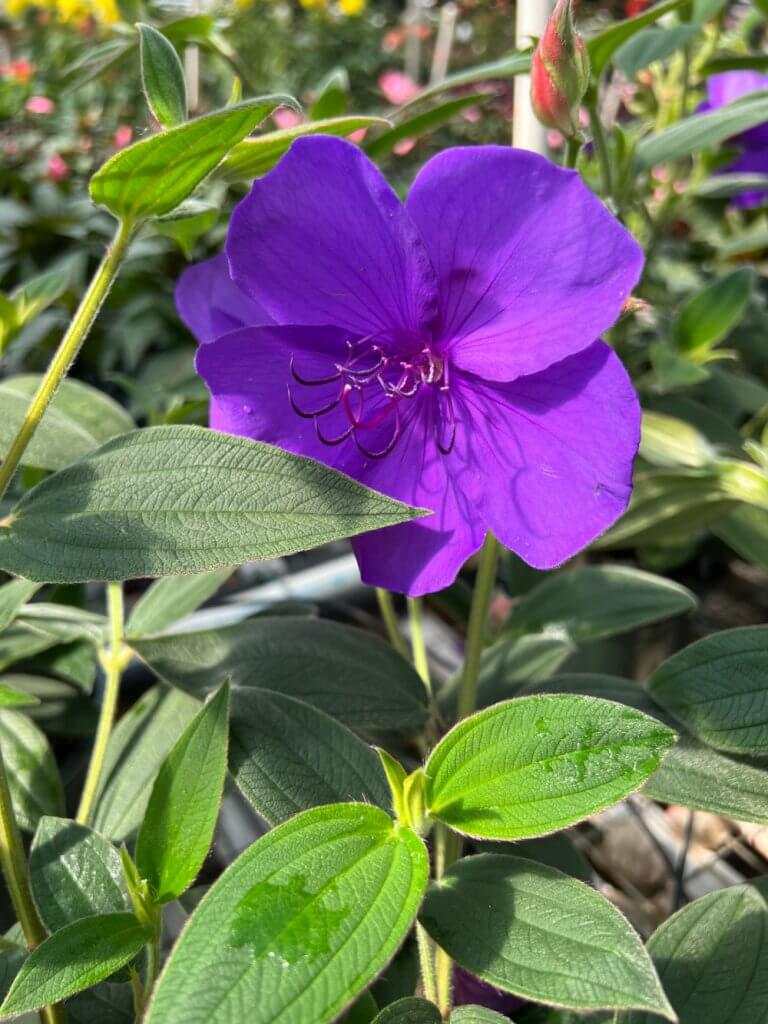 Princess Flower blooms throughout the season, from spring through summer. Water weekly when planted in the landscape (more often in pots) however, you'll need to water more as the summer and high heat increases.
Golden Sage Salvia
This sun loving plant is highly attractive to hummingbirds and butterflies. Clumps of chartreuse green, slightly-scented foliage are loaded with blooms from early spring through fall, sometimes with a brief pause in very hot dry periods in summer. Deer and rabbit resistant with many uses in container gardens and color beds. Hummingbirds are highly attracted to the vibrant red blooms.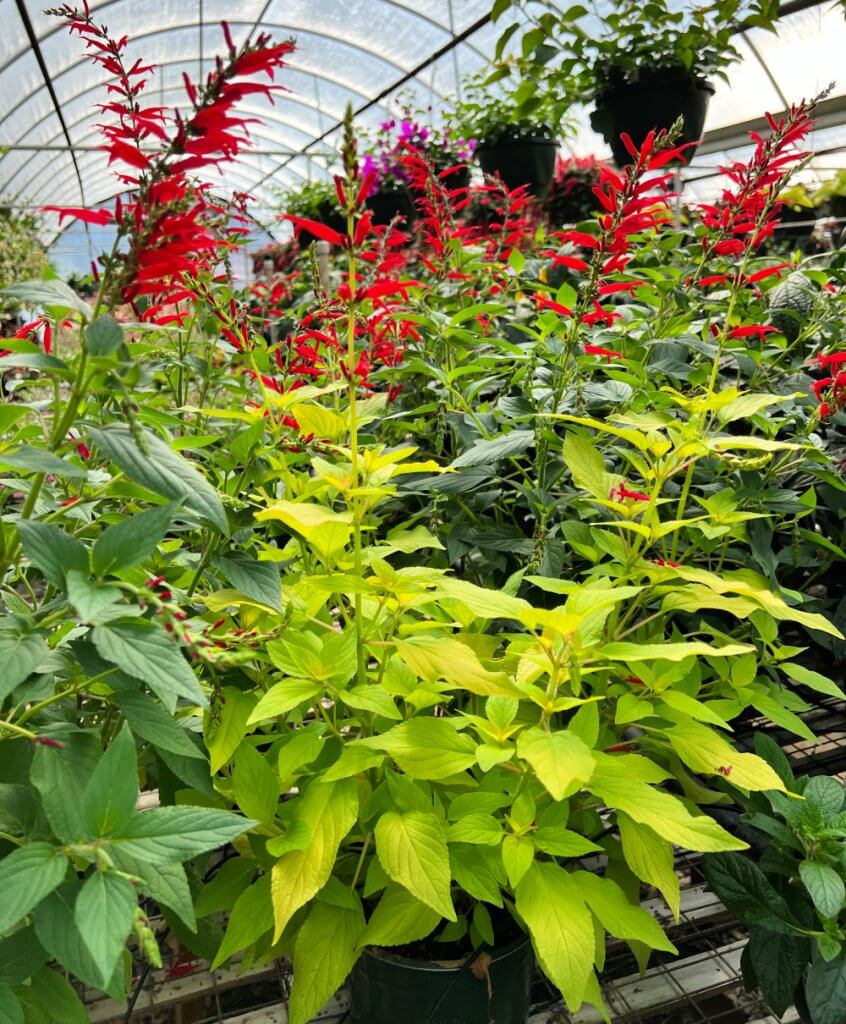 Salvias prefer full sun and well-drained soil
Loosen the soil to a depth of 12 inches
Water thoroughly and keep the soil moist through the growing season
Dragon Wing Begonia
Begonias have always been an excellent go to plant for any garden whether it be sun or shade. Use it as a "thriller" or accent in your containers or as a focal point in your garden. The begonia can take full sun to part shade and will flourish and flower all spring and summer long. Make sure to keep it well watered and fertilize every other week with a general purpose fertilizer and you will have a gorgeous plant all season long.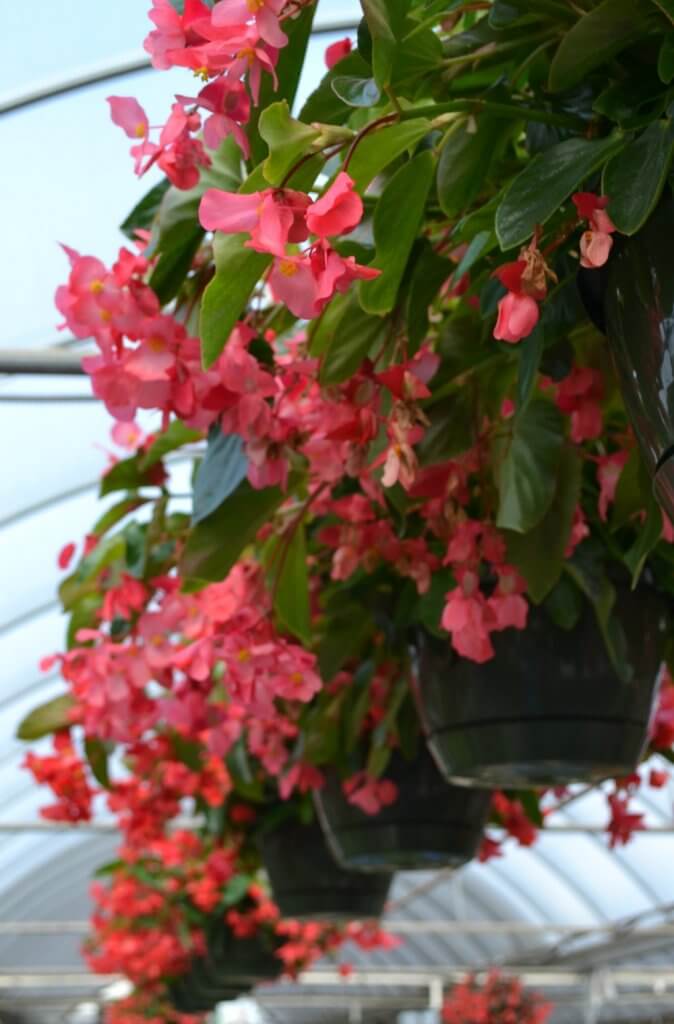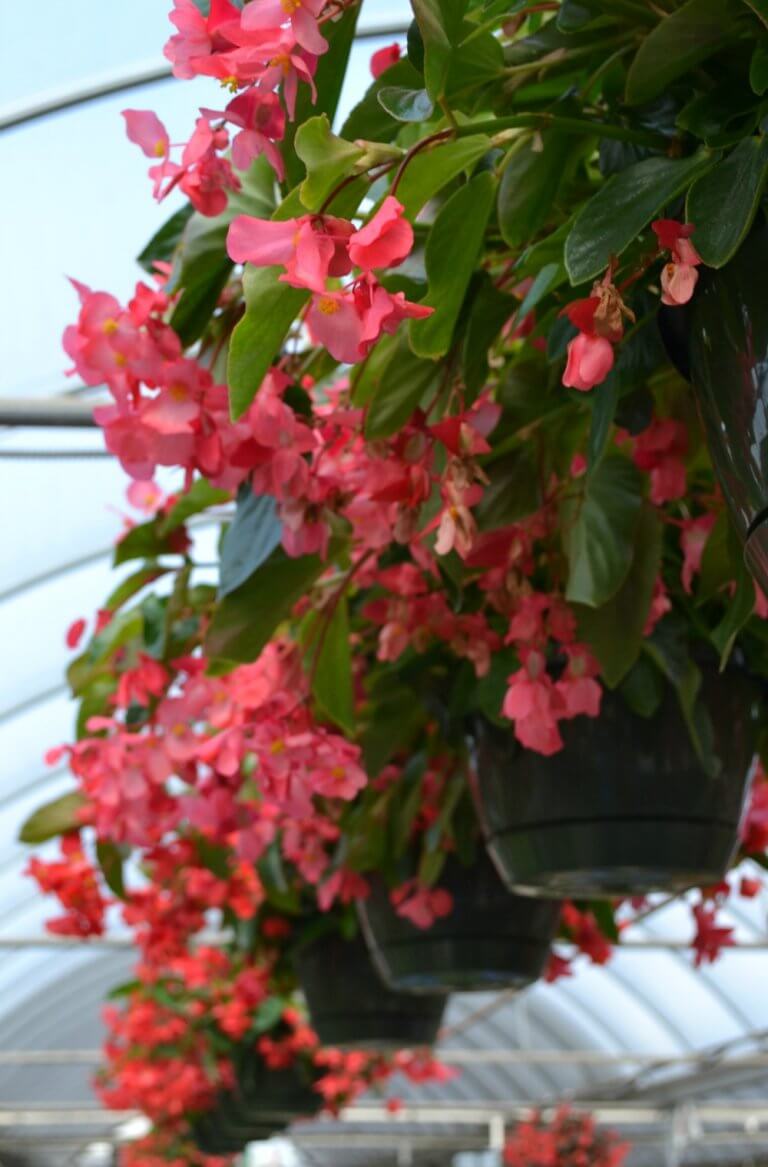 Blooms spring through frost.
Full – part sun
18" – 24" H
Fast growing
Heat tolerant
Shrimp Plant
Also known as the lollipop plant, this plant is becoming more and more common in tropical landscapes, mainly because of it's versatility. The Shrimp Plant flower best in full sun but can also survive in part sun.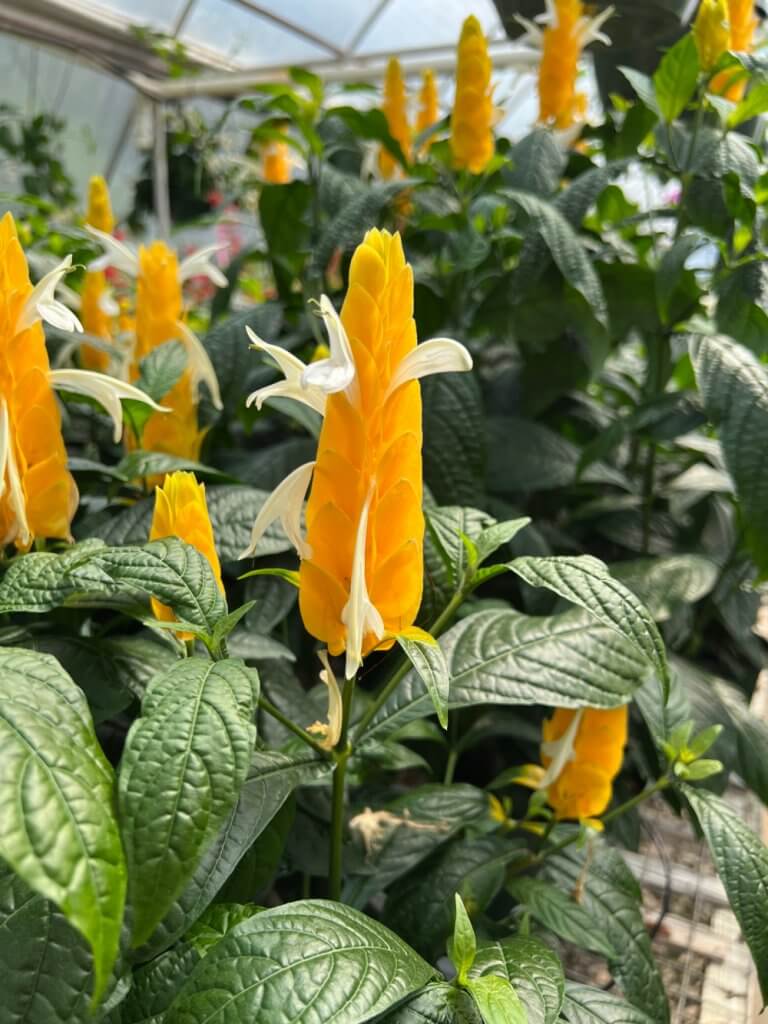 This plant is a relatively medium grower (it might reach five feet in one growing season) and is an annual here in North Carolina. Fertilize weekly for best blooms.
Copper Plant
This vibrant, sun loving foliage plants gets it name from its large leaves with a rusty mix of coppery red with mottled pink and green accents. This plant thrives in the hot sun and is a great addition to floral borders. As a relative to the Chenille Plants, Copper Plants flower but with narrow, dropping, fuzzy blooms similar in color to the foliage. A good dose of sun each day will bring out more color in the foliage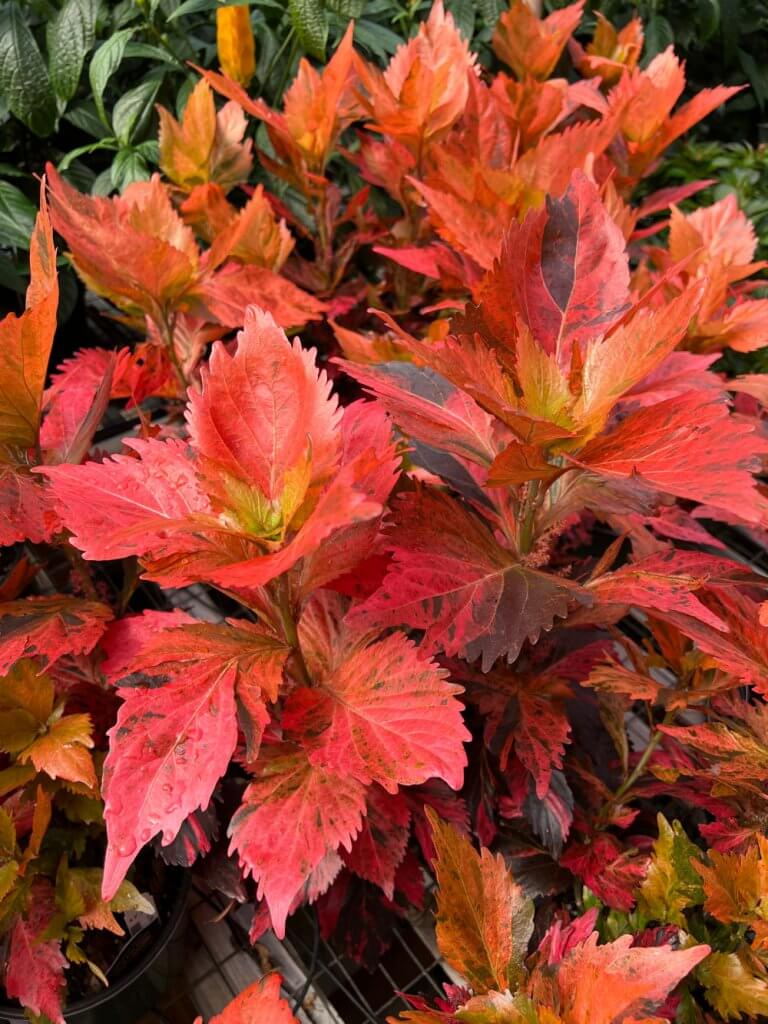 Trim occasionally for shape and height.
Maintain even moisture. Can be drought tolerant once established.
Fertilize regularly with granular fertilizer.