Top 5 Foundation Plants
5 Great Foundation Plants
The Backbone of the Landscape
Foundation plants are the backbone of our landscapes!  For the purposes of this article we will define "foundation plant" as a plant that matures between three to six feet and can be planted closely to our homes serving as the backdrop of our landscape.  Typically, an evergreen is preferred so that in the winter months the plants still have foliage and serve the purpose of hiding foundations and providing some color when other plants have dropped their leaves.  I am intentionally leaving two of the most popular options out of this article.  Boxwood and Japanese holly (often confused with boxwood) have been used for foundation plantings for many years.  Yes, they will work but in my opinion these two plants have been used so much that they have become somewhat boring.  No offense if you are a boxwood or Japanese holly fan…..if you like them, keep using them!
1.  'Otto Luyken' Laurel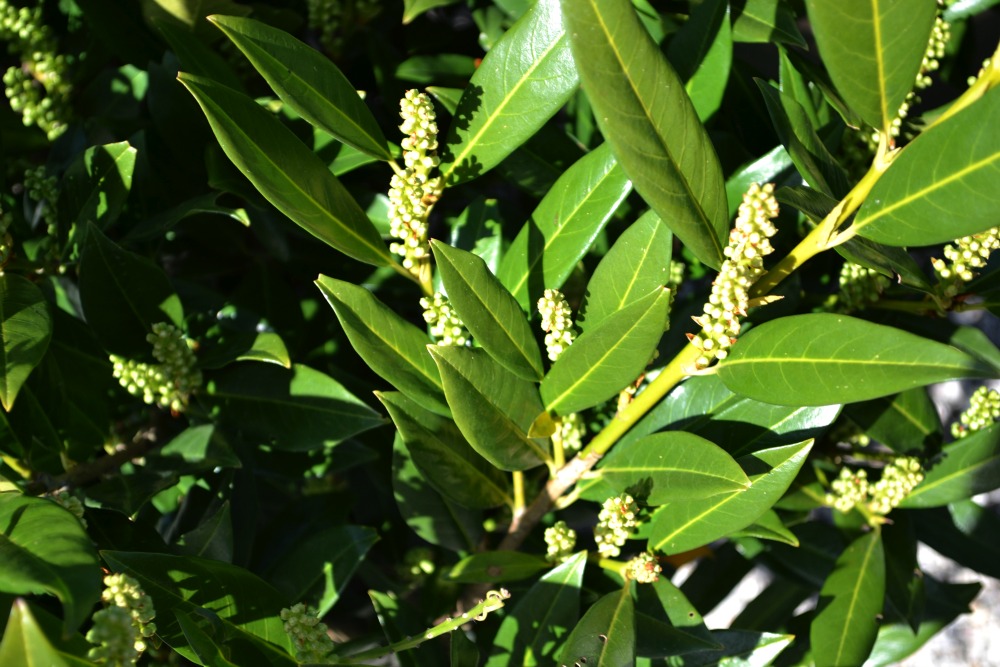 'Otto Luyken' is a great evergreen foundation plant with shiny dark green foliage and white bottle brush type flowers in the spring.  This particular cultivar of laurel matures between 4-6 feet tall and about 5-6 feet in width.  It can handle a wide range of sunlight exposures.  I have seen it grown in full sun and in full shade.  Shot-hole fungus is a fungal disease that can affect 'Otto Luyken'.  The good news is that this fungus generally does NOT bother the plants in the landscape.  The reason that I mention this pathogen is that occasionally you will see plants in the garden center setting that have holes in the leaves.  These holes actually resemble damage by worms or caterpillars that could be found on other types of plants.  Conditions in production nurseries are perfect for this fungus while the environment of your landscape is not.  My point is that if you see holes in the foliage of 'Otto Luyken' when you purchase them, do not worry!  When the plant begins to grow and put out new growth, the holes will be covered up and you should not see signs of it again.  Plant 'Otto Luyken' with confidence!
2.  'Carissa' Holly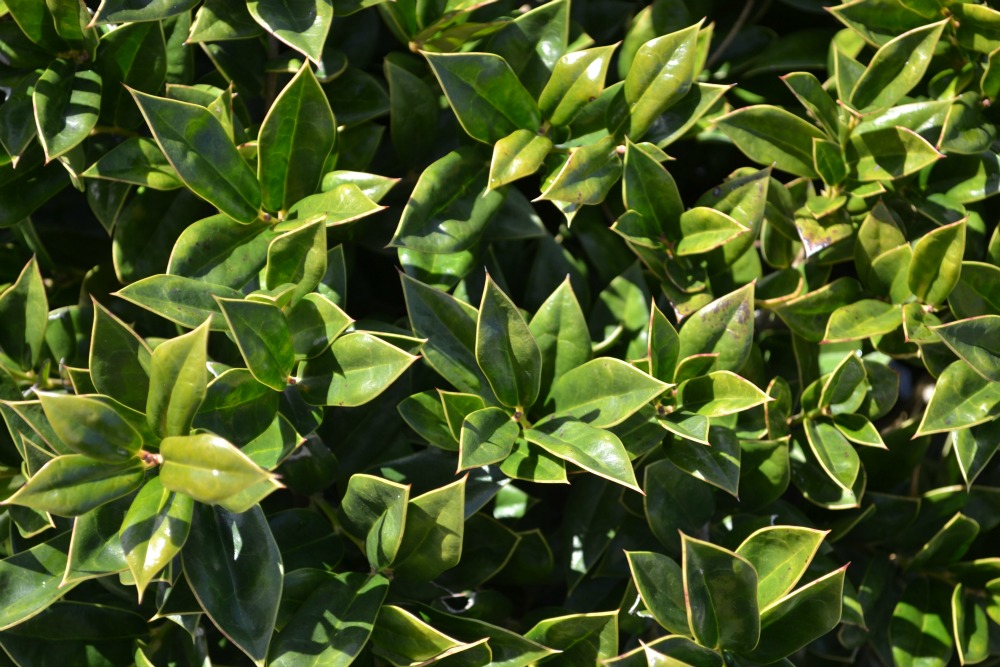 'Carissa' Holly is a cultivar of Chinese holly that matures between three and four feet tall and about he same in width.  'Carissa' has a beautiful natural mounding habit that requires very little, if any, pruning.  Full sun is great for this plant but it will absolutely tolerate a half day of shade.  Flowering with this plant is insignificant so if color is a goal in your foundation planting you may want to choose another plant.  One thing to remember with 'Carissa' holly is that it does have a single spine on the very end of each leaf.  The plant is not extremely brutal or harsh but you will feel it if you bump into it.  Having a two little girls at home has me thinking long term.  I may plant 'Carissa' under their bedroom windows to deter any high school aged boys from entering or leaving the house without my knowledge.
3.  Illicium ('Florida Sunshine' or 'Purple Glaze')
Illicium is a medium to fast growing, low maintenance evergreen shrub that prefers light shade.  There are many cultivars to choose from, some of which grow much larger than others.  If the foundation of your house is mostly shady, I would recommend either 'Florida Sunshine' or  'Purple Glaze'.  Florida Sunshine Illicium has fantastic chartreuse evergreen foliage, grows 4-5 feet tall and 3 feet wide.  In the fall and winter, the leaves of the Florida Sunshine take on a copper hue.  Purple Glaze Illicium is slow growing with deep green, glossy leaves.  New leaf growth emerges in a deep purple to burgundy before maturing to green.  Purple Glaze has a mounding growth habit maturing at 3-4 feet high by 2-3 feet wide.
4.  'Globosa Nana' Cryptomeria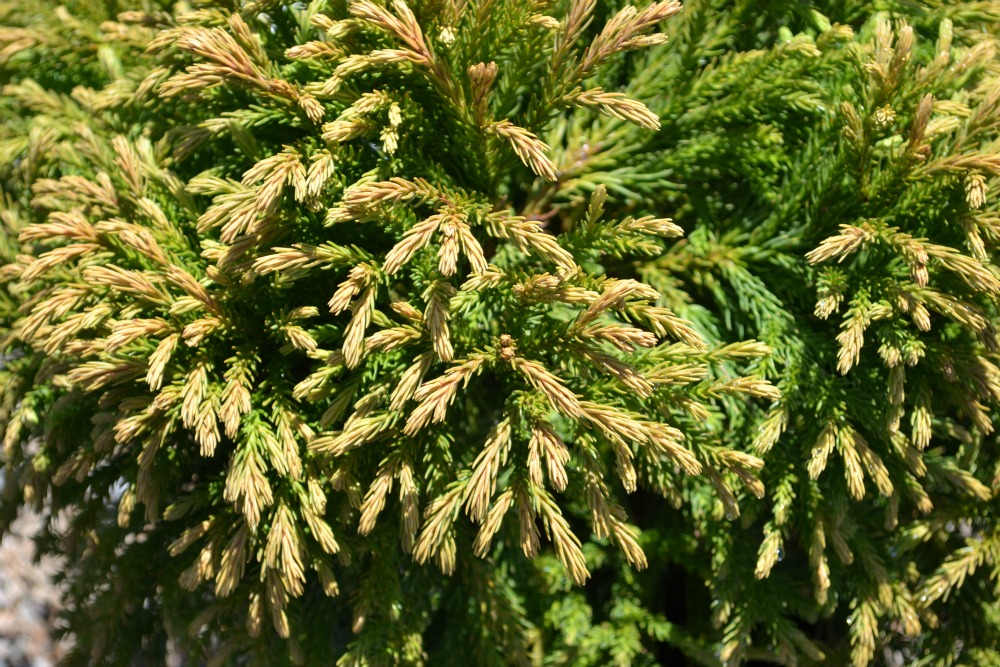 For something a little different, here is the one and only conifer on this list.  Many conifers will be just fine for foundation planting, they just are not as popular as evergreens.  'Globosa Nana' is a beautiful cryptomeria maturing between five to six feet tall and about the same in width.  One thing to remember regarding the mature size is that this plant is a slow grower.  If six feet sounds too big for your space, realize that it will take years for this plant to get even close to that size.  Full sun is best for 'Globosa Nana'.  This plant would bring an entirely different texture to your landscape with its small needles of delicate branches.
5.  'Crimson Fire' Loropetalum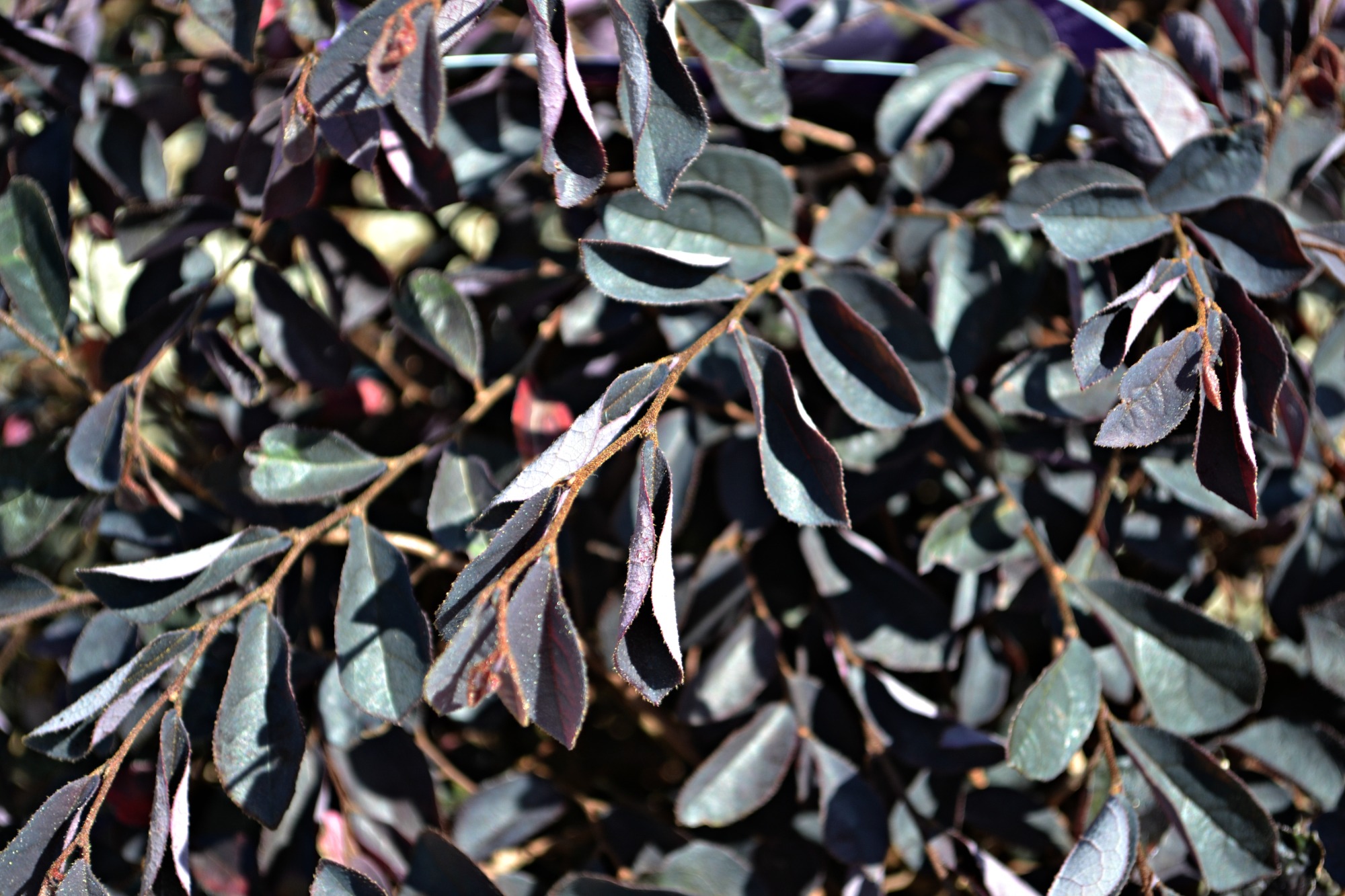 If color is a primary goal in your foundation planting, here is your plant.  This cultivar of Loropetalum is one of the very few that will mature at or a little under six feet in height.  You can expect a mature 'Crimson Fire' to mature to around 4 feet in height and about 5 feet in width.  Compared to other loropetalums, this one is a slow grower.  The color of this plant comes from both its flowers and its foliage.  The pink fringe-like flowers appear in spring, sporadically in summer, and again in the fall.  Foliage is purple and the plant is evergreen adding an entirely different dimension to the landscape.
These are five of my favorite foundation plants.  Many other plants will work so if you have a question about another plant you were considering, ask!  If height is a major concern with any of these plants, light pruning once or twice a year will keep them a little shorter for you.  As with any planting in the garden, I recommend proper planting techniques and soil amendment.  This is especially true with foundation plants.  Water issues are pretty common with plants near the foundation of a home.  Using plenty of soil amendment and digging the proper size hole will keep your plants happy and you will avoid headaches down the road.
Happy Planting!