We've Got an App for That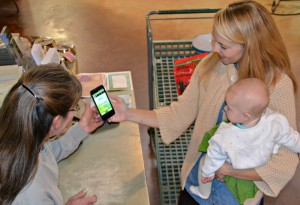 The FREE Fairview Garden Center app puts plants in the palm of your hand.  No ads, no hassle, just knowledge and rewards at your fingertips.
A Smarter Rewards Program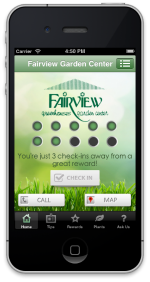 Use the app like a punch card.  Check in at each visit to the Fairview Garden Center registers.  Simply activate your app, let the cashier enter the pin and be one step closer to discounts and freebies.
Possible Rewards:
(subject to change)
$5.00 Off a purchase of $30 or more just for downloading
Every 5 Check-Ins = $10.00 Off a purchase
11 Lifetime Check-Ins = $25.00 Gift Card
19 Lifetime Check-Ins = $50.00 Gift Card
29 Lifetime Check-Ins = $75.00 Gift Card
Special rewards on your birthday!
And more!
Play with Plants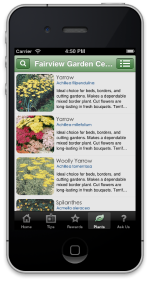 Use the MasterTag interactive plant database to search for your favorite plant.  See pictures, find planting information, care tips and more.  New plants and information are updated regularly.
Ask the Experts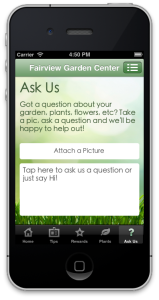 Have a question about a plant, pest or product?  Use the "Ask Us" app feature to quickly upload a pic or send a question or comment to the experts at Fairview.  We will respond quickly to help you solve a dilemma or find the perfect plant.
Our Tips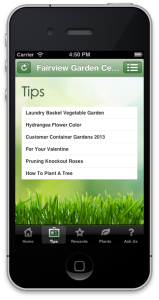 The Tips feature gives you quick access to tons of gardening articles, decorating ideas and inspiration.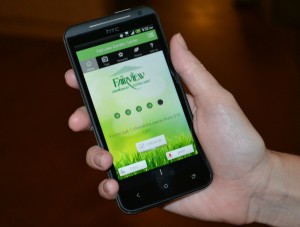 Find the FREE Fairview Garden Center App on Google Play or a the AppStore.